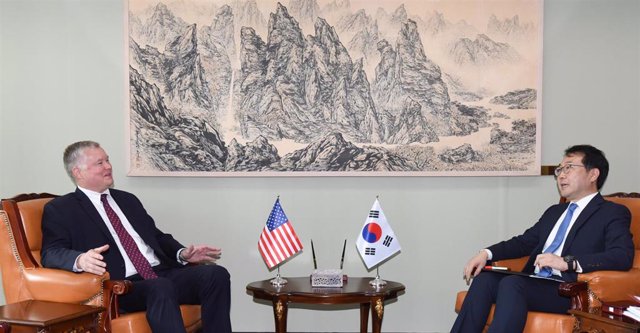 The United States envoy for North Korea, Stephen Biegun, and his South Korean counterpart, Lee Do Hoon. – – / YNA / dpa – Archive
SEOUL, Dec. 16 (Reuters / EP) –
The US envoy for North Korea, Stephen Biegun, has asked the North Korean authorities on Monday to agree to resume negotiations on the country's nuclear and ballistic program.
Upon his arrival in Seoul, where he plans to address with the South Korean Government the recent military tests conducted by the North Korean Army, Biegun has asserted that Washington is contested to discuss "any matter of interest."
In this regard, he has requested that Pyongyang respond as soon as possible to the offer to resume the dialogue. "It is time for us to do our jobs. Let's make this happen. We are here, and you know how to contact us," he said.
During a press conference attended by his South Korean counterpart, Lee Do Hoon, Biegun said that the United States lacks a "deadline" but stressed that the President's Administration, Donald Trump, "has a goal" and He wants to "resume negotiations."
Biegun, who has lamented the tone of some comments made by senior North Korean officials recently, has said he finds them "hostile, negative and very unnecessary."
He also stressed that it would be "of very little use" for North Korea to carry out military provocations in the near future.
Pyongyang conducted two "important" trials on December 7 and 13 at the Sohae space launch base. The General Staff of the country has described them as a defensive program to contain the "nuclear threat of the United States", which has caused an increase in tension between the two countries. According to experts, they could be engines for a satellite or a new intercontinental missile.
"It doesn't have to be that way. It's not too late," Biegun said of this type of essay. "We have offered a large number of creative ways to move forward with feasible and flexible steps in an attempt to reach agreements and meet the objectives of both parties," he explained.
This is the second meeting between Lee and Biegun and takes place just a few weeks before the end of the year deadline set by Pyongyang for Washington to show flexibility to advance its stalled nuclear dialogues.
Biegun's trip has generated speculation that he could visit the border town of Panmunjom for possible contact with North Korean representatives, but the US envoy has not commented on it.