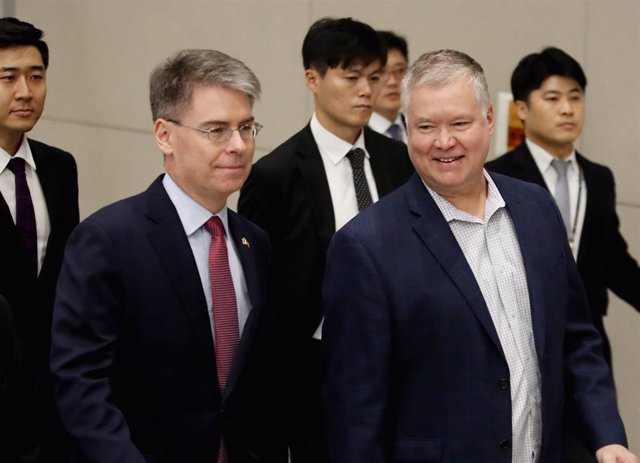 The US special representative for North Korea, Stephen Biegun – – / YNA / dpa
MADRID, Dec. 15 (EUROPE PRESS) –
The United States special envoy for North Korea, Stephen Biegun, has arrived in Seoul on Sunday to discuss with his authorities the recent military tests carried out by the North Korean Army, at a critical moment in the negotiations to suspend the nuclear and ballistic program of the country.
Pyongyang conducted two "important" trials on December 7 and 13 at the Sohae space launch base. The General Staff of the country has described them as a defensive program to contain the "nuclear threat of the United States." According to experts, they could be engines for a satellite or a new intercontinental missile.
So, on Monday, Biegun will meet with his South Korean counterpart, Lee Do Hoon, to discuss the North Korean issue and joint efforts to denuclearize the peninsula. The diplomat is also scheduled to make a "courtesy visit" to the country's president, Moon Jae In, according to the official South Korean news agency Yonhap.
It will be the second meeting between the two, just a few weeks before the end of the year deadline set by Pyongyang for Washington to show flexibility to advance its stalled nuclear dialogues.
Biegun's trip has generated speculation that he could visit the border town of Panmunjom for possible contact with North Korean representatives, but the US envoy has not commented on it.
After his trip to Seoul, Biegun will go to Japan to continue with the Japanese authorities "his close allied coordination on North Korea."