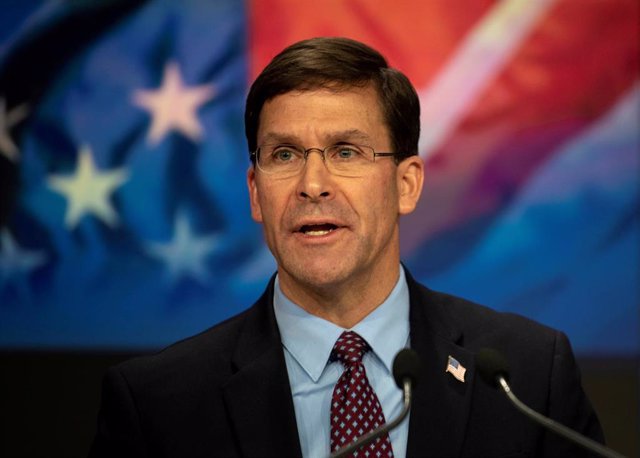 United States Secretary of Defense Mark Esper. – REUTERS / HANDOUT.
WASHINGTON, Dec. 5 (Reuters / EP) –
US Secretary of Defense Mark Esper has announced that the US Army has completed the withdrawal of its troops in northeastern Syria and has relocated some 600 military personnel across the country, although they could be less in case the "European allies" contribute to the mission by offering troops "voluntarily".
The announcement, which took place after the NATO summit in London, responds to the order given by President Donald Trump in October to leave northern Syria.
Since the US president announced a year ago that the goal is to leave Syria in the near future, US troop levels in Syria have dropped by 40 percent, which is about 1,000 troops, including soldiers and military personnel.
During the NATO summit for its 70th anniversary, Trump explained that the ultimate goal of the United States is to keep Syria's oil reserves out of the reach of the Islamic State terrorist organization.
Trump decided to both delay the withdrawal of US troops and reduce the number of troops deployed after Congress criticized that this would give Turkey freedom to continue its attacks on Kurdish forces that had served as Washington's allies. against Islamic State.
From NATO they fear that the President's Government, Recep Tayyip Erdogan, is increasingly acting unilaterally, attacking not only Kurdish forces in the area, but also acquiring military equipment and air defenses from Moscow.
However, Esper has said that "there are no movements in this regard," after the talks that Erdogan and Trump held at the NATO summit.
In addition, it has celebrated the "positive development" that assumes that Turkey has withdrawn the threat of blocking NATO's plans for the defense of Poland and the Baltic countries in exchange for the United States and the other members of the Atlantic Treaty declared Kurdish fighters of the Popular Protection Units (YPG) as terrorists.