The US considers withdrawing about 4,000 troops deployed in South Korea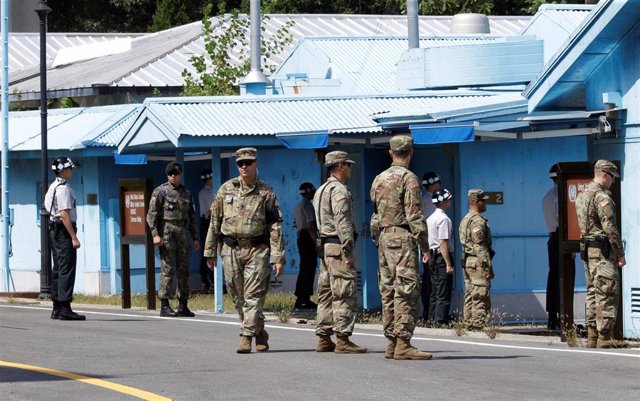 South Korean and American military guard in Panmunjom in the demilitarized zone of Korea – REUTERS / POOL NEW – Archive
MADRID, Nov. 21 (EUROPE PRESS) –
US authorities are considering withdrawing about 4,000 troops deployed in South Korea if Seoul does not support Washington's request to pay more for US troops spending in the Asian nation.
The United States interrupted talks with South Korea on Tuesday after demanding that Seoul increase its annual cost contribution for the deployment of US troops to $ 5 billion, more than five times what South Korea is currently paying.
The president of the United States, Donald Trump, has insisted that South Korea pay more, but has also suggested the complete withdrawal of troops.
"I understand that the United States is preparing to withdraw a brigade in case the negotiations with South Korea do not have a good term as President Trump wishes," said a Washington diplomatic source quoted by the South Korean newspaper 'Chosun Ilbo'.
There are about 28,500 US troops in South Korea. A brigade has between 3,000 and 4,000 military personnel, so a possible reduction would be within the limits of the National Defense Authorization Law for fiscal year 2019, approved by the Senate.
Under the law, authorized funds could not be used to reduce the total number of military personnel in South Korea if it is below 22,000, unless the Secretary of Defense certifies the need before the congressional committees.
The United States special representative for North Korea, Stephen Biegun, has said he believes that Washington must maintain its strength in the Asian country.
"South Korea is among our most important allied partners. That does not mean there is no cost. We are in the middle of a difficult negotiation with South Koreans," Biegun added.
For his part, the Secretary of Defense of the United States, Mark Esper, has assured that he has no record of any plan to withdraw 4,000 soldiers if the talks fail.
At the end of October, the South Korean government extended its hand to the United States in finding a "mutually acceptable solution" to the negotiations to pay for the current and controversial presence of 28,500 US military personnel stationed in the country throughout this year and the following.
The last renewal of the Special Measures Agreement (SMA), which stipulates the contributions of both countries, was signed last March after complex negotiations in which Seoul promised to increase its financial contribution to 874 million euros, compared to 741 million of the previous agreement.