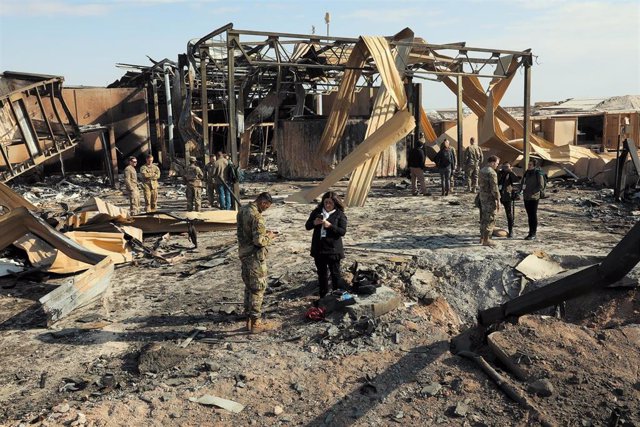 The Iraqi air base of Al Asad after Iran's attack in response to the death of General Qasem Soleimani at the hands of the United States. – Combined Joint Task Force – Oper
MADRID, Jan. 17 (EUROPE PRESS) –
The US-led military coalition in Iraq has announced Thursday that eleven soldiers were injured by concussion following the Iranian attack on the Iraqi base in Al Asad, which was attended by Washington troops, despite the fact that at first the Pentagon announced that there had been no deaths or injuries.
The US Army now confirms that there were eleven wounded after the Iranian attack on the Iraqi base of Al Asad
"While no member of the US service died in the Iranian attack on January 8 at Al Asad air base, several were treated for symptoms of concussion caused by the explosion and are still being evaluated," said Captain Bill Urban, spokesman for the United States Central Command.
Urban has explained that the treatment of these soldiers is a "standard procedure" that is carried out when there are personnel near an explosion, to find out if "traumatic brain injuries" have occurred.
Thus, "as a precaution," as Urban has detailed, eight people have been transferred to the Landstuhl Regional Medical Center in southern Germany, while three others have been evacuated to the Arifja camp in the capital of Kuwait to make them "a follow-up exam".
"When they are considered fit for the service, they are expected to return to Iraq," he added.
For their part, officials from the US Department of Defense have explained to the CNN television network that after an initial "evaluation of the commander, the symptoms arose days after the fact", hence, he said, the contradiction between the first statements Defense Secretary Mark Esper, who only reported material damage after the attack.
In response to the attack by the United States that caused the death of Iranian General Qasem Soleimani, head of the Quds Force of the Revolutionary Guard, Iran attacked with missiles two military bases located in Iraq, Al Asad and Erbil, in which soldiers were deployed Americans
The president of the United States, Donald Trump, said hours later that the attacks did not produce casualties, while the Pentagon only spoke of material damage.