The US announces that it will send an ambassador to Bolivia for the first time in more than a decade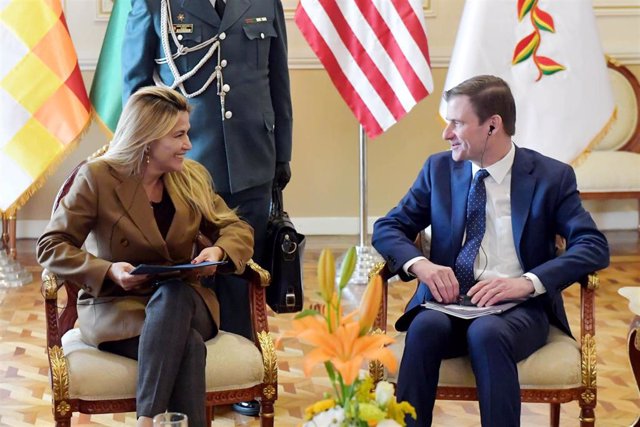 Undersecretary of State for Political Affairs of the United States, David Hale (d), along with the self-proclaimed interim president of Bolivia, Jeanine Áñez (i) – Diego Valero / ABI / dpa
MADRID, Jan. 23 (EUROPE PRESS) –
Under Secretary of State for Political Affairs of the United States, David Hale, has announced that Washington will send Bolivia to an ambassador, for the first time in more than a decade, to "restore normal relations" between the two countries.
"The United States will again send an ambassador to La Paz to continue these talks and restore normal relations between the two peoples," he said, adding that there is "a new opportunity to strengthen the relationship."
In a video published by the US Embassy in the South American country, Hale has stressed that Bolivia is going through a "critical moment" with preparations for "free and fair elections on May 3".
"It is an opportunity to lay the foundations for a stable, safe, prosperous and democratic Bolivia," he said, while highlighting the "commitment and effort" of the self-proclaimed interim president, Jeanine Áñez, to "prepare the way for the future government and leaders, whoever they are. "
Hale has stressed that the authorities have transferred his "commitment" to the holding of "free, impartial, inclusive, peaceful and transparent elections" and has emphasized that Bolivians "deserve to be heard again on May 3".
The United States does not have an ambassador to Bolivia since the then president, Evo Morales, ordered in 2008 the expulsion from the country of the then head of the US diplomatic legation, Philip Goldberg, whom he accused of organizing the protests against his Executive.
The United States has had a minor diplomat in the South American country since Morales ordered that the most recent ambassador Philip Goldberg leave in 2008 after accusing him of conspiracy.
In addition, he was declared a 'non grata' person, a decision that Morales defended in "homage to the historical struggle" of the Bolivian people against the neo-liberal model and against all forms of foreign interference.
Morales resigned on November 10, 2019 after the Organization of American States (OAS) detected "irregularities" in the electoral process, thereby confirming the "gigantic fraud" denounced by the Bolivian opposition.
The indigenous leader considers that he is the victim of a "coup d'etat" because he resigned after the Armed Forces and the Police suggested. At first he fled to Mexico but, after a brief stay in Cuba, he arrived in Argentina, where he is a refugee.
The MAS of Morales and the new ruling party reached an agreement in Congress to hold new presidential elections on May 3 by expressly vetoing Morales, so he will limit himself to directing the campaign from Buenos Aires.