The United States has no plans to evacuate its embassy in Baghdad but sends reinforcements to the diplomatic headquarters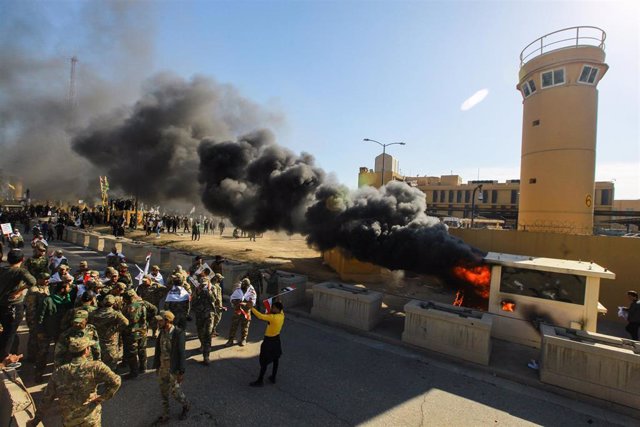 Demonstrators before the US Embassy in Baghdad (Iraq). – Ameer Al Mohmmedaw / dpa
WASHINGTON, Dec. 31 (Reuters / EP) –
The United States has no plans to evacuate its embassy in Baghdad (Iraq) but is sending reinforcements to its diplomatic headquarters after violent demonstrations that are recorded outside the complex by US air attacks on the Kataib Hezbollah militia, US officials reported Tuesday to Reuters.
"The US staff is safe. There are no plans to evacuate the Baghdad Embassy," said a spokesman for the State Department, confirming that the US ambassador to Iraq, Matt Tueller, returns to the embassy after making a trip he had programmed. On Tuesday, Iraqi government sources had assured that both the ambassador and other US officials had been evacuated for security.
U.S. Secretary of Defense Mark Esper has announced that additional forces are being sent to the Embassy to protect her from protesters. Esper has asked the Iraqi government to help protect US personnel in the country, as it is part of Baghdad's "international responsibilities."
The US military attacked Sunday positions of the Kataib Hezbollah militia in response to the murder of an American civilian contractor in a rocket attack against an Iraqi military base.
The president of the United States, Donald Trump, has accused Iran on Tuesday of "orchestrating an attack" against the US Embassy in Iraq, in the context of protests in front of the building over the recent bombardment against a pro-government militia supported by Tehran.
"Iran killed an American contractor, injuring several. We responded firmly, and we always will," said the president, in a message posted on his account on the social network Twitter.
"Now Iran is orchestrating an attack against the US Embassy in Iraq. They will be fully responsible. Furthermore, we hope that Iraq will use its forces to protect the Embassy, ​​and we have notified that," he added.
For his part, the Secretary of State of the United States, Mike Pompeo, has denounced that "groups supported by Iran are threatening" the Embassy and has defended the bombings against the Kataib Hezbollah militia.
"We responded defensively to an attack by Iran through 'proxies' that killed a US citizen and wounded US and Iraqi soldiers," he said.
Pompeo has confirmed through his Twitter account that he has spoken with the acting Iraqi Prime Minister and the country's president, Adel Abdul Mahdi and Barham Salí, respectively, "to reiterate his obligation to protect United States personnel and property ".
Thousands of protesters and militia leaders have gathered on Tuesday with the Embassy to protest against the air raids on Sunday against Kataib Hezbollah targets, which resulted in 25 deaths and more than 50 wounded.