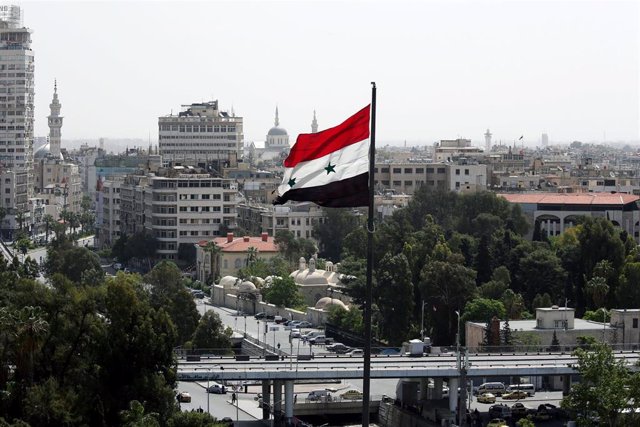 Flag of Syria in Damascus, the capital. – REUTERS / ALI HASHISHO – Archive
MADRID, Dec. 1 (EUROPE PRESS) –
The United States has accused the Syrian Government of Bashar al Assad on Saturday of "shamelessly" delaying the work of the country's Constitutional Committee, responsible for drafting a new Magna Carta and whose meetings ended on Friday without agreement.
"The delegation of the Al Assad regime reached the second round requesting preconditions before being willing to meet to discuss these constitutional principles," the United States Department of State explained in a statement.
"The preconditions requested by the Al Assad regime clearly violate the rules of the Constitutional Committee procedure and are a blatant attempt to delay the work of an important effort," he added.
In this context, the United States has reiterated its support for the UN Secretary General, António Guterres, and the agency's special envoy, Geir Pedersen.
In addition, it has urged to resume other measures provided for in Resolution 2254 of the UN Security Council in addition to the drafting of a new Constitution.
"Other elements of the resolution must be pursued in parallel, including the release of detainees, a ceasefire throughout the country and the establishment of a safe and neutral environment for free and fair elections under full UN supervision. ", the statement said.
The second round of talks concluded on Friday without agreement because of the differences that still persist around the agenda. Pedersen, on the other hand, downplayed the fact that it was considered "typical" in this type of negotiating process.
"We still don't have an agreement on the agenda," he said, so for now there are no deadlines for further progress in drafting a new Constitution. The order falls for now on a committee of 45 members – 15 from the Syrian Government, 15 more from the opposition and 15 from civil society – and which in turn is part of the constitutional commission, consisting of 150 people.
For his part, the head of the Government delegation, Ahmad al Kuzbari, blamed the other side for the lack of progress. "We have not held any session because no agreement has been reached," he said at the end of the day in Geneva, according to the official news agency SANA.