The UN warns that the Islamic State "remains at the center of the transnational terrorist threat"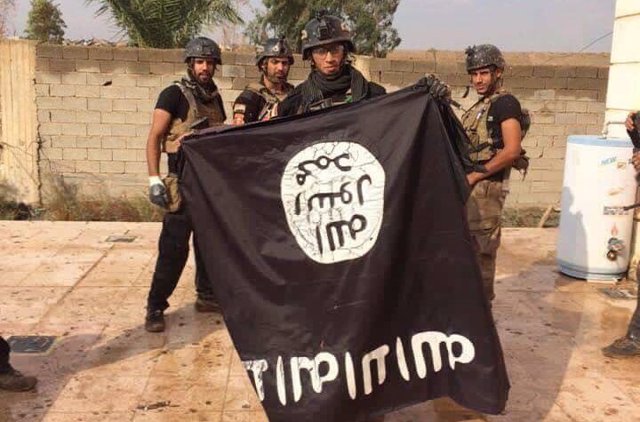 Iraqi military holding an Islamic State flag – FUERZAS ARMADAS DE IRAK
It aims at increasing operations in Africa and calls for unity to the international community
MADRID, Feb. 7 (EUROPE PRESS) –
The deputy general secretary of the United Nations Office against Terrorism (UNOCT), Vladimir Voronkov, said Friday that despite the loss of their territories in Syria and Iraq and the death in October of their leader, Abu Bakr al Baghdadi , Islamic State "remains at the center of the transnational terrorist threat."
Voronkov, who has asked the international community to remain united in the fight against the jihadist group, stressed that "Islamic State has continued to seek resurgence and global relevance online and offline, aspiring to restore its ability to carry out complex international operations ".
"The regional subsidiaries of the Islamic State continue to pursue a consolidation strategy in conflict zones by exploiting local disputes," he said, in an appearance before the UN Security Council.
Thus, he pointed out that it is estimated that around 27,000 fighters of the group are still alive in Iraq and Syria and will continue to pose a threat in the short and long term.
Voronkov has also warned of the increase in recruitment and attack operations by Islamic State and Al Qaeda in Africa, including the subsidiaries Islamic State in West Africa (ISWA) and Islamic State in the Great Sahara (ISGS).
In the case of Central Asia, the UNOCT chief has pointed out that, despite the blow suffered by the Islamic State branch in Afghanistan in 2019, the group is still active.
Therefore, Voronkov has stressed that the main concern at this time is the situation of more than 100,000 people linked to the jihadist group, mainly women and children, who are in displaced persons camps.
In this way, he has argued that "the best solution is to put children out of danger and move them back to their home countries, along with the rest of their families, as soon as possible."
"At a time of increasing divisions among member states, we cannot afford to endanger the global fight against terrorism," he warned, before calling for greater unity within the international community in the face of this threat.
For his part, Michele Coninsx, executive director of the agency, recalled that "Islamic State has destroyed entire communities, uprooted families and brainwashed thousands of people spreading their toxic and wrong ideology."
"The international community today has an opportunity to judge those responsible, rehabilitate the victims and facilitate reconstruction and community development in areas destroyed by the violence of the Islamic State," he argued.
Coninsx has stressed that "the repatriation of women and children will accelerate this process and trials against Islamic State fighters and their affiliates, according to International Law, will help victims turn the page."
"This is one of the key anti-terrorist challenges of our time. Inaction now will only make the anti-terrorism efforts harder in the future," he has settled.