The UN urges to overcome "political differences" to give priority to humanitarian action in Venezuela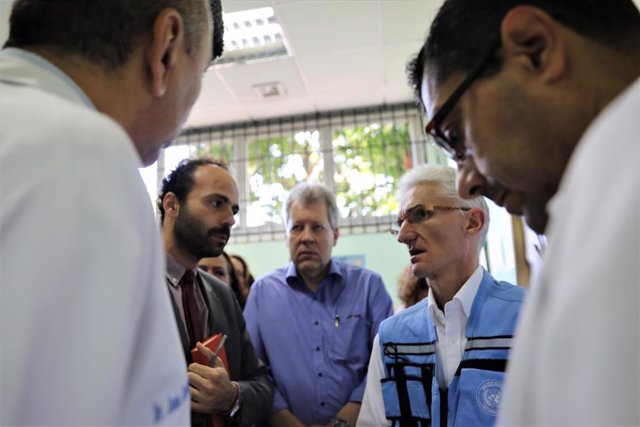 UN Head of Humanitarian Affairs, Mark Lowcock, on his visit to Venezuela – UNITED NATIONS
He denounces that Venezuelans "face overwhelming challenges to survive every day"
MADRID, Nov. 6 (EUROPE PRESS) –
The head of Humanitarian Affairs of the UN, Mark Lowcock, urged on Wednesday the Government of Nicolás Maduro and the opposition to overcome "political differences" to give priority to humanitarian action and end the "immediate suffering" of Venezuelans , that "they face every day overwhelming challenges to survive".
Lowcock has visited the country in recent days and has met with representatives of both the Government and the opposition led by the president of the National Assembly, Juan Guaidó.
"During my first visit to Venezuela, I have seen how common women, men, boys and girls face overwhelming challenges to survive every day. Millions of people cannot access the minimum of food, water and medical care. situation continues to deteriorate, "he said in a written statement.
Lowcock has indicated that "the vast majority of Venezuelans have been affected by the political and economic crisis in which it was once the richest nation in Latin America." "A huge economic contraction exacerbated by hyperinflation has caused a difficult situation for ordinary people across the country," he added.
Specifically, it has drawn attention to the health system, which "is on the verge of collapse." As he has said, "many hospitals lack the basic infrastructure of water and electricity", to which are added "the lack of medicines and the shortage of doctors and nurses to manage them". Thus, "preventable diseases, such as malaria and diphtheria, have returned very strongly."
Lowcock has pointed to the chronically ill, pregnant and nursing women, children and people with disabilities as "the most vulnerable", but has also warned that "hospitalized patients, many of whom are already seriously ill, run a high risk of losing one's life because of the new infections they are acquiring while they are in the hospital, since it is not possible to perform basic cleaning and disinfection. "
However, he highlighted "the solidarity of people who support each other." In this regard, he has assessed that "some hospital workers (José Gregorio Hernández) spend more than their monthly salary just to go to work" to a place where "medicines are scarce, blackouts have caused only a fifth of the hospital have electricity, water comes only two days a week and, when it does, some of the rusty and broken pipes give off an unpleasant stench. "
The head of Humanitarian Affairs of the UN has also recalled that this situation has expelled 4.5 million Venezuelans from the country, most of which have gone to other countries in Latin America and the Caribbean. "Many of these people risk taking dangerous trips every day, facing sexual exploitation, trafficking and abuse," he said.
POLITICAL SOLUTION
Lowcock has said that in his meetings with "high-level government officials and members of the National Assembly" he perceived "a common will to address the humanitarian situation", something he has celebrated because, in his opinion, "only a political solution can stop suffering in Venezuela. "
In this regard, he has assured that both sides have "fully" supported the Humanitarian Response Plan prepared this year by the UN and its partners to address the most serious humanitarian needs. "I have received firm commitments that will support the implementation," he added.
Lowcock has renewed the commitment of the UN and its partners to "continue providing humanitarian aid to the most vulnerable in accordance with the principles of impartiality, independence and neutrality."
In this regard, he stressed that "the humanitarian community focuses on the provision of life-saving assistance and the protection of the most vulnerable" and has urged "all parties" not to "manipulate" the work of cooperants. "Human suffering is not a political weapon," he has defended.
Thus, it has requested "the authorities and other support to improve access for humanitarian organizations, including non-governmental organizations, to further facilitate the incorporation of specialized personnel, to reduce bureaucratic restrictions for the registration and transfer of supplies of help throughout the country, to support independent monitoring and to help improve data availability to ensure that the most needy can be helped. "
MORE RESOURCES
Lowcock has also wanted to emphasize the need to raise money to finance humanitarian action in Venezuela. The UN has collected $ 155 million for the 2019 plan, which in total required $ 223 million, resulting in a funding deficit.
He has advanced that next month the United Nations will publish its provisional plans for the humanitarian response in Venezuela in 2020 and has predicted that "many more resources will be needed."
"It is unlikely that international resources will be sufficient to stabilize the humanitarian situation. We will have to find a way to free Venezuelan resources to contribute more to humanitarian action," he said.
"Recognizing the political differences, this will require that stakeholders give a higher priority to reducing the immediate suffering of the population of this country," he said. "Everyone needs to do more," he has settled.