The UN urges Italy to help 60,000 unaccompanied minors arriving since 2014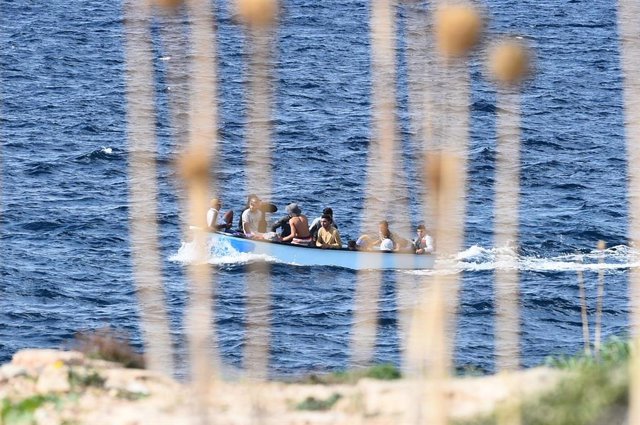 Boat with migrants near Lampedusa – REUTERS / GUGLIELMO MANGIAPANE
MADRID, Nov. 8 (EUROPE PRESS) –
Some 60,000 of the migrant and refugee children who arrived in Italy between 2014 and 2018 without the accompaniment of any adult need "continuous support" from the authorities to ensure that they are not unprotected when they turn 18, they have claimed three UN agencies in a common message.
During the past five years, some 70,000 unaccompanied minors have arrived in Italy after crossing the Mediterranean. Of these, 90 percent were between 15 and 17 years old, so the United Nations estimates that 60,000 of these teenagers have reached the age of majority at this time.
The UN Children's Fund (UNICEF), the United Nations High Commissioner for Refugees (UNHCR) and the International Organization for Migration (IOM) have published a report warning that these children face in their adult life to challenges ranging from discrimination to difficulty finding work, going through bureaucratic obstacles or lack of minimal legal advice.
"The difference between a 17-year-old refugee or migrant who has fled conflict and violence and an 18-year-old who has had the same traumatic experience is insignificant," said UNICEF migration program coordinator in Italy, Anna Riatti . At the age of majority, there is also "an increased risk of social isolation, violence, abuse and an uncertain future," he added.
UNHCR's representative for southern Europe, Roland Schilling, has advocated recognizing the needs of these people and taking into account the factors that would ensure "a positive transition between being a refugee child to an independent, self-sufficient and resilient adult."
Among the recommendations presented are ensuring an adequate relationship of minors with their peers and their guardians, access to training, both school and professional, and guarantees so that they can have a "safe and adequate" housing, according to the joint statement of the three organizations
The report 'At the crossroads: Unaccompanied and separated children in transition to adulthood in Italy' picks up the "triple transition" faced by these children who are added not only the passage from adolescence to age adult, but the arrival in a new country and the emotional journey that migration in most cases entails.
The director of the IOM coordination office for the Mediterranean, Laurence Hart, has stressed that the report not only puts on the table the "vulnerabilities" of these young people, but also "emphasizes their strengths, their ability to act and their resilience, as well as its potential. "