The UN Security Council approves a ceasefire in Libya with the abstention of Russia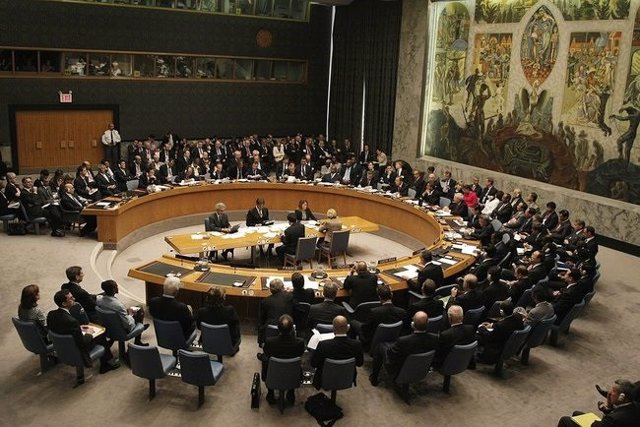 UN Security Council. – WIKIMEDIA – Archive
The Security Council of the United Nations has approved this Wednesday at the last minute a resolution that establishes a ceasefire in Libya in a vote that has counted on the abstention of Russia.
The text, which has been drafted by the United Kingdom and approved with 14 votes in favor of a total of 15, supports the decision taken by the parties to the conflict during the Berlin peace conference, which took place on January 19 and gave as The result was a "comprehensive pact" that included a ceasefire and the formation of a military verification commission made up of both sides to ensure compliance.
The consensus between the parties, which was brought before the Security Council to give it a resolution, includes specific sanctions for those who violate the armistice agreement and the commitment of the different factions to comply with an arms embargo that has been violated in the past.
The Russian ambassador to the UN, Vasili Nebenzia, has indicated that Russia has abstained from voting on the resolution that supports the results of the Berlin conference on Libya, "according to the Sputnik news agency.
Thus, the diplomat said that in Moscow "there is no clear understanding of whether all sides of the Libyan conflict are willing to abide by the decisions of the conference."
For his part, the German Foreign Minister, Heiko Maas, has applauded the adoption of the same and stressed that he endorses the results obtained in Berlin.
For Maas, this is a "big step" towards resolving the conflict in the country of North Africa. "By approving today the results of the Berlin conference on Libya, we have taken another great step towards resolving the conflict," he said, as stated by the Foreign Ministry in a brief statement.
A resolution needs nine votes in favor and no veto by the United States, Russia, China, the United Kingdom or France to get ahead. The Security Council had been weighing the text for more than three weeks, according to the German DPA news agency.
At the beginning of April 2019, the forces of eastern Libya, under the command of Field Marshal Jalifa Haftar, launched an offensive to seize Tripoli, capital of the country and place where the unit government, which has the UN support.
In addition, Haftar announced in mid-December the beginning of the "final battle" and the "zero hour" for Tripoli and ordered its forces to move towards the city. In this context, its forces took the city of Sirte by surprise in early January, in a severe blow to the unity government.
The clashes between the parties have left thousands dead and injured, according to information from the World Health Organization (WHO).