The UN describes as "atrocity" the killing of protesters in Baghdad and asks the Armed Forces to protect civilians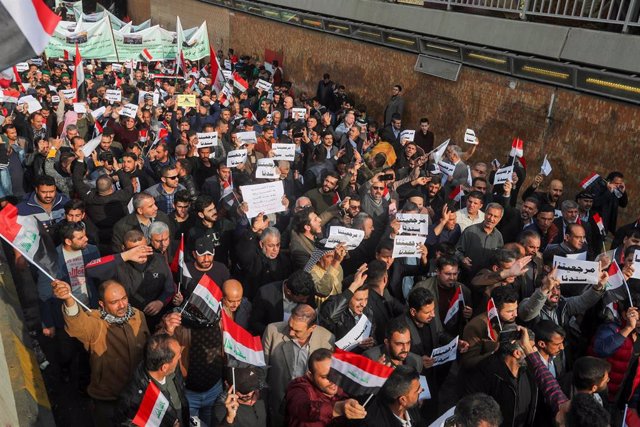 Anti-government protests in Baghdad (Iraq). – REUTERS / KHALID AL MOUSILY
MADRID, Dec 8 (EUROPE PRESS) –
The United Nations has described this Saturday as "atrocity" attacks against unarmed protesters on Friday in Baghdad, the epicenter of protests against the Government, while calling on the Armed Forces to "save no effort" in protecting civilians against "violent armed groups out of control".
"The deliberate killing of protesters disarmed by armed elements is nothing less than an atrocity against the people of Iraq," criticized the UN special representative for the country, Jeanine Hennis-Plasschaert, who has condemned the events "in the most energetic terms. "
He also said that the authors "have to be identified and brought to justice without delay" and has asked peaceful protesters to "cooperate constructively" in order for protests to develop under that protection.
According to the United Nations, acts of violence are directed by foreign-motivated bands that, politically motivated or with the intention of "settling accounts," are putting Iraq at risk "of falling into a dangerous trajectory."
A balance sheet provided on Saturday by Iraqi medical and police sources has been estimated at least 23 killed by Friday's shooting and 125 injured.
The fatalities, among which there are three police officers, add up to approximately 460 found by the semi-official organization of the Iraqi High Commission for Human Rights, responsible for monitoring victims during the demonstrations. Friday was the bloodiest incident of the last weeks of protests in the country.
Iraqi Army troops have deployed on Saturday at Al Jilani Square in Baghdad to protect peaceful protesters, Baghdad al-Qa'am al-Mahamdui explained to Iraqi state news agency ISNA.
The protests, which began in October, demand a total political reform in Iraq to end the endemic corruption in the country and the inequality in the distribution of oil benefits.
They also request the resignation of the Government in full, the dissolution of Parliament and, in general terms, the disappearance of the political system established after the invasion of the United States in 2003.
Most of the fatalities are a consequence of the repression exerted by the security forces, who have regularly used real ammunition to disperse the protesters.
The Government, in turn, has defended this response by ensuring that protesters included "hidden criminals" with the mission of initiating gunfire.
The political crisis has led to the resignation of Prime Minister Adel Abdul Mahdi to date. The president of Parliament, Mohamed Halbusi, asked the country's president, Barham Salí, on Tuesday to appoint a new prime minister, for which he will have 15 days. After that, a period of 30 days will open to form the new government.