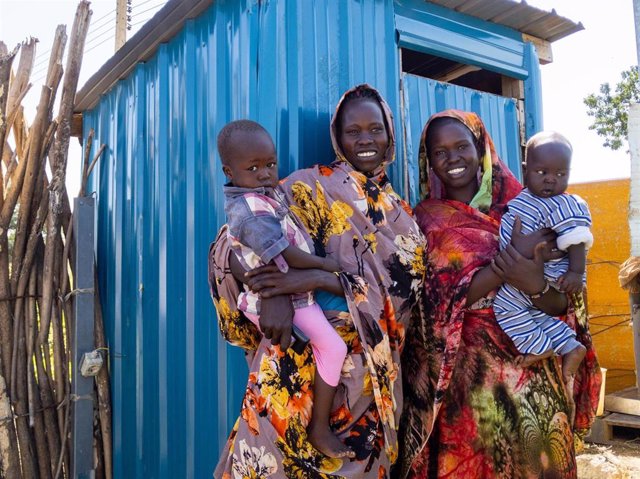 Two women with their two children in a camp for displaced people in West Darfur. – WORLD VISION – Archive
MADRID, Jan. 16 (EUROPE PRESS) –
The United Nations Population Fund (UNFPA) has denounced on Wednesday that instability in the West Darfur region of Sudan has left more than 40,000 displaced, of which 10,800 are women, who "continue to feel insecure" and "vulnerable to violence and sexual harassment "that is being committed" on a large scale "during displacement.
The UN denounces "large-scale" violations against women during displacement in West Darfur
The UNFPA representative in Sudan, Massimo Diana, has warned that "recent attacks on camps in West Darfur" has left some 3,400 pregnant women without adequate reproductive health services, 700 of which are in the ninth month of pregnancy.
According to the information handled by the United Nations agency, in the midst of displacement, gender violence is being committed "on a large scale" and in different ways.
"Gender violence is one of the most widespread human rights abuses in the world," said the UNFPA representative, for whom it is "a priority" of "immediate attention."
UNFPA has insisted that better and immediate measures are needed to save lives and ensure the health and safety of these women and their children.
"The lack of obstetrics services for pregnant women and the lack of access to safe childbirth are the reasons for the loss of life for both mothers and newborns," Diana lamented. "Overcrowding in hospitals during instability is common and in the case of current events in West Darfur it means that women give birth in shared rooms or open squares."
This UN agency has explained that in collaboration with the Sudanese Ministry of Health and other international partners, sexual and reproductive policies are being carried out, such as the establishment of clinics and parishes in the different places where the displaced persons and the distribution of emergency reproductive health equipment in several cities such as Khartoum, El Geneina (the capital of West Darfur) and its surroundings.