The UN confirms 92 civilians killed in Syria since the start of the Turkish offensive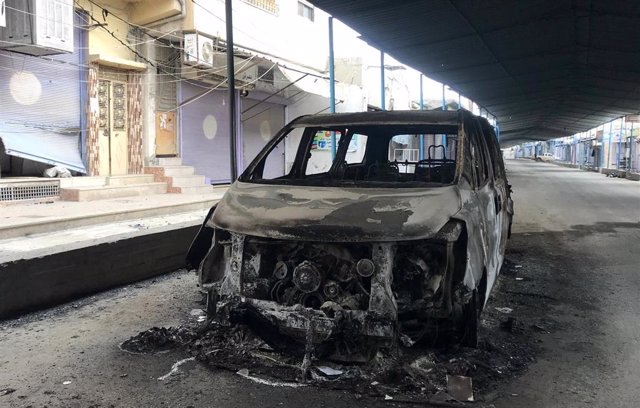 Damaged car on a street in Ras al Ain – REUTERS / ABOUD HAMAM
MADRID, Nov. 8 (EUROPE PRESS) –
At least 92 civilians have died in northern and northeastern Syria since Turkey began its offensive against Kurdish militias on October 9, according to a recount by the UN High Commissioner for Human Rights, which has warned of the "very price high "that the population pays for the armed conflict that remains open in the Arab country.
The figure, updated until November 5, includes 49 deaths from air, land, sniper and executions. During the same period, another 31 civilians have lost their lives due to improvised devices or explosive remnants in the area where Turkey develops its offensive against the Popular Protection Units (YPG).
The High Commissioner has also noted the death of 12 civilians as a result of bomb explosions and ground attacks in areas that transcend the Turkish offensive, according to the organization's spokesman, Rupert Colville.
The office led by Chilean President Michelle Bachelet has especially warned of the growing "indiscriminate" use of improvised explosive devices (IEDs) in populated areas, mainly in areas under the control of allied groups in Turkey. "Most likely" is that they are the work of groups opposed to the offensive, according to Colville.
"The indiscriminate use of these weapons is a clear violation of International Humanitarian Law. We remind all parties in conflict of their responsibility to protect civilians and fulfill their obligations," the spokesman added, "very concerned" about the high number of victims of FDI.
The High Commissioner has also expressed concern about the situation of displaced persons seeking to return to their homes, both in areas controlled by Turkey and related groups and in areas under the command of the legal militias. In this regard, he recalled the "urgent need" to facilitate the "immediate and safe" return of those wishing to return and questioned the "arbitrary" arrests that may occur.
The United Nations Human Rights Office has also called for keeping track of the northwestern part of Syria, where both ground and air attacks have also increased. The main focus of concern is Idlib, the last major stronghold of the rebel factions that oppose the Bashar al Assad regime.
The UN has reported attacks, intentional or not, against medical facilities in northwestern Syria. Four centers suffered damage between November 4 and 6 due to attacks, bringing the facilities affected by the fighting to 61 since April 29, according to the High Commissioner for Human Rights.
"We repeat once again that all parties must ensure that hospital and medical services, including staff, are respected and protected in all circumstances," Colville said.