The UN calls for calm in Bolivia and stresses that "it is always willing to help" if requested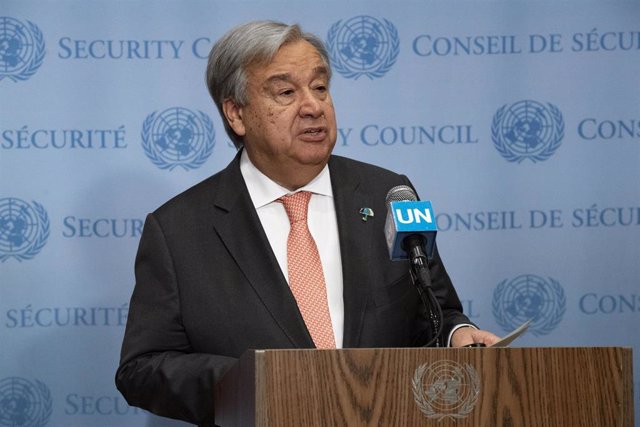 United Nations Secretary General Antonio Guterres – Evan Schneider / United Nation Pho / DPA
NEW YORK, Oct. 22 (EUROPE PRESS) –
The United Nations has expressed concern on Tuesday about the escalation of violence in Bolivia over the electoral crisis that has been unleashed by the allegations of fraud made by the opposition against the Government of Evo Morales, while recalling that "it is always ready to help "if the parties request it.
In the daily press conference, Stéphane Dujarric, the spokesman for the UN secretary general, Antonio Guterres, has said that the latter is "closely following" the events in Bolivia, indicating that he is concerned about "incidents of violence."
Dujarric has urged all Bolivians to "act in moderation and maintain the commendable civic spirit demonstrated by participating in these" presidential elections, while urging political leaders to "reduce tensions" by going to "legal means to resolve electoral disputes. "
For its part, the United Nations Children's Fund (UNICEF) has made a specific appeal to parents to expose their children to "situations that may violate their rights."
"The UN is always willing to help in case the parties request it," recalled the spokesman for Guterres, who has been sure that the United Nations staff in Bolivia is already in contact with the protagonists of this electoral crisis .
The Transmission of Preliminary Electoral Results (TREP) on Sunday, with more than 80 percent scrutinized, gave Morales 45 percent and opposition candidate Carlos Mesa 38 percent of the vote, which would force a second round between both of them. However, shortly after the TREP was suddenly suspended.
Mesa, surrounded by the Bolivian opposition, has denounced an alleged attempt by the Government to rig the electoral results to prevent Morales from having to submit to a second round, the first in 17 years. Both sides have called for the mobilization of their followers, which resulted in riots in the early hours of Tuesday.
The TREP has resumed in the last hours. With 95 percent of the scrutiny completed, Morales has rebounded to 46 percent, while Mesa has dropped to 37 percent. If the Bolivian president manages to distance himself ten points from the opposition leader, he will have avoided the second round, getting another five years of government.