The UN asks Spain and Morocco to work together "calm down" the situation in Ceuta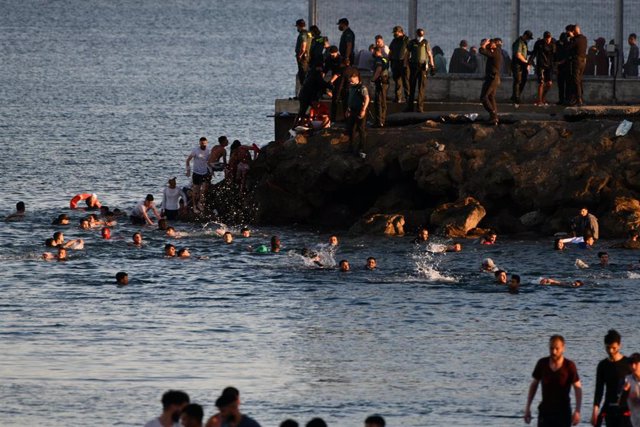 Follow the news about the migration crisis in Ceuta live
The United Nations this Tuesday expressed the need for Spain and Morocco to reach an agreement "spread" in order to "calm down" the situation that has prevailed in Ceuta since Monday after the irregular arrival of thousands of migrants from Moroccan territory to the autonomous city.
The spokesman for the General Secretariat of the United Nations, Stéphane Dujarric, described this Tuesday at a press conference of "agonizing" the images that he could see of what happened in Ceuta and that both Spain and Morocco asked for cooperation "calm the situation".
"I think it is very important that both Morocco and Spain reach an agreement in order to try to calm the situation down"what he appreciated is "another example of the challenges" faced with the international community to manage migration "in a humane way and that respects the dignity of the people".
According to the Spanish Interior Minister Fernando Grande-Marlaska, around 8,000 migrants have traveled from Morocco to Ceuta in the last 48 hours, including around 1,500 minors, 2,700 of whom have already returned to the neighboring country. In addition, another 86 migrants managed to enter Melilla early Tuesday.
The migratory crisis comes in the middle of a diplomatic crisis between the government and the Alawite Kingdom due to the reception of the leader of the Polisario Front, Brahim Ghali, who is hospitalized in Logroño for treatment for COVID-19.
The executive has made strictly humanitarian grounds, but the statements did not satisfy Rabat, who warned on May 8 that it would extract "consequences" and it made him ugly that he had not been notified prior to the decision, a gesture he was considering "deliberately" and that it does not correspond in a relationship between good neighbors. For the moment, the Moroccan authorities have remained silent about the recent events.