The TV shows you didn't know Meryl Streep appeared in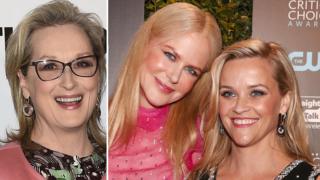 Back in the 1970s, budding actress Meryl Streep played a woman murdered by the Nazis in TV miniseries Holocaust.
Four decades on, the star of The Post and The Iron Lady is returning to the small screen – in Big Little Lies.
Streep will join fellow Oscar winners Nicole Kidman and Reese Witherspoon in the hit HBO drama.
According to HBO, Streep will play the mother of Alexander Skarsgard's character, "concerned for the well-being of her grandchildren".
It's far from her first TV role though. Here are some of the other shows she has managed to fit in, when she's not starring in acclaimed movies and winning Oscars.
The Simpsons
In 1994 Meryl made a guest appearance in Springfield as Jessica Lovejoy, a reverend's daughter who briefly becomes Bart's girlfriend.
Streep said she had accepted the role to impress her kids. "It's given me more credibility in my home than anything I've ever done," she was quoted as saying at the time.
King of the Hill
Streep made another voice appearance five years later in a 1999 edition of Fox's animated sitcom.
In A Beer Can Named Desire she played Esme Dauterive, a Louisiana matriarch and plantation owner with the thickest of Southern accents.
Angels in America
Streep won an Emmy, a Golden Globe and a SAG award for her multiple roles in HBO's epic adaptation of Tony Kushner's two-part play.
The 2003 miniseries saw her play a variety of parts, among them a gay Mormon's mother, the ghost of Ethel Rosenberg and an impressively bearded Rabbi.
Web Therapy
Meryl has popped up in a number of episodes of Lisa Kudrow's improvised online comedy series as Camilla Bowner, a shrink who specialises in gay conversion therapy.
"She came up with the character, she showed up and she was unbelievably good," Kudrow told chat show host Jimmy Kimmel in 2012.
The Nix
In 2016 it was reported that Streep was set to star in a TV adaptation of Nathan Hill's bestseller about a woman whose attack on a presidential candidate prompts her estranged son to pen a tell-all biography.
"Nothing in Hollywood is set in stone until it's actually made, so we're kind of circling around it," said Hill last year. "But hopefully, we'll get the green light."
Streep's casting in Big Little Lies marks something of a family reunion, given that Alexander Skarsgard's father Stellan played an old boyfriend of hers in 2008's Mamma Mia.
Before Big Little Lies returns in 2019, Meryl will also be seen in Mamma Mia! Here We Go Again, the eagerly awaited sequel to her Abba-themed mega-smash.
Speculation is swirling that Streep's dungaree-wearing Donna is now dead and only appears in the film in flashbacks.
Take a look at the latest trailer and decide for yourself.
Kidman – who has won a string of awards for her performance in Big Little Lies including an Emmy and Screen Actors Guild prize – welcomed Streep on Instagram.
Laura Dern, who won a Golden Globe and an Emmy for her work in the show, also expressed delight at the news, saying her "acting dream had come true".
Witherspoon, meanwhile, said she was "beyond thrilled" that Streep was joining the cast, adding that Monterey – the show's Californian setting – had "better watch out".
Don't expect Streep to swear off film for good though. Currently to be seen in Oscar hopeful The Post, she'll be back on the big screen later this year in Mary Poppins Returns.
Follow us on Facebook, on Twitter @BBCNewsEnts, or on Instagram at bbcnewsents. If you have a story suggestion email entertainment.news@bbc.co.uk.