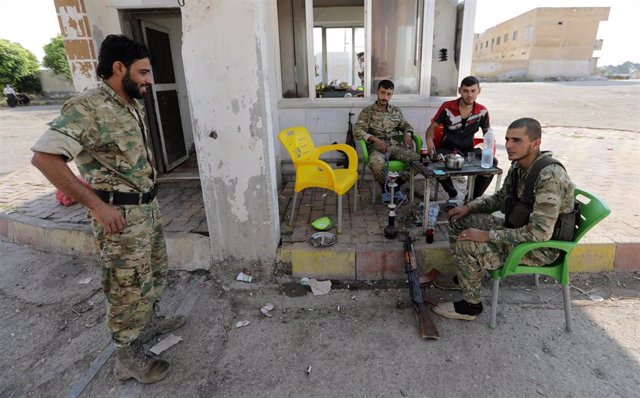 Syrian rebel fighters backed by Turkey sit together in the border town of Tal Abyad – REUTERS / KHALIL ASHAWI – Archive
MADRID, Dec. 24 (EUROPE PRESS) –
The Government of Turkey has announced that a total of 110 terrorists have been deported since November 11, thus adding to the 7,500 members of the Islamic State that have been sent to their countries of origin so far this year, according to figures that Turkish President Recep Tayyip Erdogan advanced in early October.
The state news agency Anadolu has detailed that from November 11 to December 19, of those 110 terrorists, 21 were Germans, 13 French, five British, two Belgians, two Moroccans, two Kosovars, one Danish, one American and one Greek, an Irish, an Australian, as well as other nationalities that have not transcended.
Although the report published by Turkey has not qualified which terrorist organizations belong to the latest deportations, it has specified that there are currently some 1,200 foreign Islamic State members locked in Turkish prisons, 300 of which were arrested during the last military operation carried out by Ankara in northern Syria.
As for the wives and son of terrorists, Ankara has reported that they were sent to their countries of origin with them and has criticized that there are countries that "resist" the repatriation of radicals by revoking their citizenship.
The Erdogan Government has also denounced that since recognizing the Islamic State as a terrorist organization in 2013, Turkey has become the target of numerous attacks by radicals, which have killed 315 people and hundreds of injured in Up to 10 suicide bombings and several different armed attacks.
In that regard, Turkey has argued that in response to these attacks on its national security, the authorities have responded by launching operations against terrorists that have led to the arrest of 5,500 members of the Islamic State, as well as the "neutralization" of 3,500 more.