The Turkish government announces that some 100,000 Syrian refugees have left Istanbul since July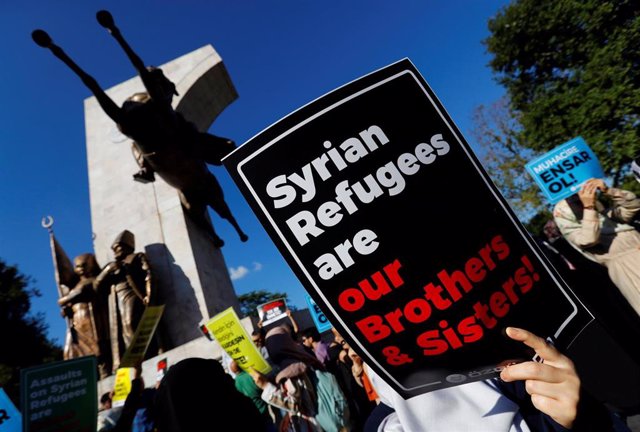 FILE PHOTO: Demonstrators hold placards in support of Syrian refugees during a protest against Turkish government's recent refugee policies in Istanbul – REUTERS / MURAD SEZER
ISTANBUL, Nov. 20 (Reuters / EP) –
Turkey's Interior Minister Suleyman Soylu has reported on Wednesday that around 100,000 Syrian citizens living irregularly in Istanbul have left the city since July, when the government set a deadline so that if they did not register they had Than go out to other regions.
Because the relationship between Turkish citizens towards refugees has worsened in recent years, the country's authorities informed Syrian citizens that they should return to the provinces in which they were registered before October 30.
Turkey hosts some 3.6 million Syrian refugees, more than any other country, since the civil war began. For its part, Istanbul, with a population of 15 million people, is the Turkish city with the most Syrian citizens, with more than half a million.
Thus, "about 100,000 Syrians have returned to the provinces in which they were registered until July 12," with a total of 200,000 who have already left the city, the minister said.
According to the minister, there is a large number of Syrians who, registered in other cities, live in Istanbul creating a "significant accumulation" of people. A problem for the authorities, as they explain, they also welcome other immigrants from the Middle East and Africa.
Last Friday, the Istanbul authorities confirmed that since the beginning of July more than 6,000 Syrians have already been sent to shelters and shelters in other regions.
The Government's objective is to install some of the Syrian refugees in a strip of land that Turkey controls in northwestern Syria, after its last offensive last month against Kurdish militias.
However, Amnesty International and Human Rights Watch (HRW) have denounced that the Ankara government is making forced shipments of refugees to northern Syria.