The TSE of Bolivia, willing to undergo any audit on the scrutiny of the presidential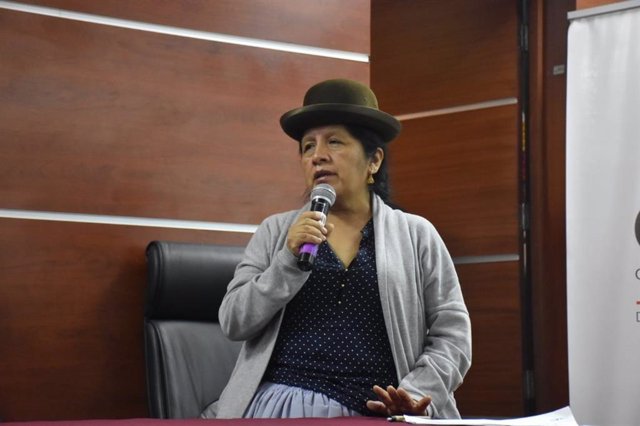 The president of the Supreme Electoral Tribunal (TSE) of Bolivia, María Eugenia Choque – ABI
LA PAZ, Oct. 26 (EUROPE PRESS) –
The president of the Supreme Electoral Tribunal (TSE) of Bolivia, María Eugenia Choque, highlighted the willingness of the body to undergo any national or international audit of the work done in the general elections last Sunday and that gave victory to the current President, Evo Morales, after a controversial break in the publication of results and the denunciation of fraud by the opposition.
"I want to tell the Bolivian population: the OAS (Organization of American States), the European Union and any international or political organization can do the audit. We are open to the audit," said Choque at a press conference gathered by the official Bolivian news agency, ABI.
Shock has stressed that the entire electoral process was carried out under two systems, one of Transmission of Preliminary Electoral Results (TREP) and the other of official calculation and has ensured that both were accompanied by an auditing company that will issue its report in the course of the next days.
Apart from being ready for an audit, the TSE is open to receive any complaint of an alleged "fraud" and it will be the full room that will analyze and technically demonstrate the results as well as dispel any doubts.
The vocal Idelfonso Condori recalled that the delegates of the nine parties that participated in the elections have a copy of the voting minutes as well as the electoral juries of each table and as if that were not enough photographs were taken of the minutes, which reveals the "impossibility of fraud" "We have in the photograph, we have all the evidence that citizens can use to verify the results," he added.
The Government has already asked the OAS for an official audit of the voting minutes of the general elections by means of a letter sent to the secretary general of the organization, Luis Almagro, a request that has been accepted.
Evo Morales was declared the winner of the elections by the Supreme Electoral Tribunal (TSE) with 47.08 percent of the votes, while his main rival, Carlos Mesa, was in second place with 36.51 percent of the votes . The Bolivian electoral legislation establishes the direct victory in the first round of the candidate who achieves more than 40 percent of votes and ten points of advantage over his rival, which would give the direct victory to Morales without the need for the second round required by the opposition and organizations such as the OAS.
Alarms jumped during election night when the Preliminary Election Results Transmission (TREP) system was interrupted for more than 23 hours. Upon resuming, there was a change in favor of the ruling party that many call "inexplicable."