The trial of "high treason" against pro-Russian MP Viktor Medvedchuk begins behind closed doors in Ukraine
The trial of "high treason" and looting of public coffers against the pro-Russian Ukrainian deputy Viktor Medvedchuk began this Thursday behind closed doors in a district court in the city of Lviv.
Medvedchuk, an MP for the now-banned Platform for Life opposition party, is accused of leaking classified information to a Russian armed forces unit and seizing natural resources from Crimea.
The hearing was held behind closed doors at the request of prosecutors, arguing that granting access to the media "may result in the disclosure of secrets protected by law" while "ensuring the safety of those involved". in this criminal proceeding".
"Access by people outside the trial is restricted" due to "the allegations against Medvedchuk for his activities with the main leaders of the aggressor country to the detriment of Ukraine's interests, as well as by martial law and the presence in court of persons not taking part in the trial participating may jeopardize our security and defense," prosecutors said.
The petition was also approved by the defense of Medvedchuk, who has been in custody since April 12, the day he was arrested again after being on the run since February 27, three days after Russian President Vladimir Putin had announced the start of the war in Ukraine.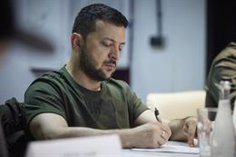 Ukraine warns another 17 political parties could be banned
Although his lawyers were present, Medvedchuk attended the hearing via videoconference from the Kyiv Court of Appeal, the city where he is being held. If found guilty, he faces up to 15 years in prison.
According to the conclusions of the prosecutor's investigation, published in May 2021, Medvedchuk and his party colleague and a deputy, Taras Kozak, negotiated and maneuvered with Russian forces access to the Hlíboka deposit in the Black Sea in order to irregularly extract minerals from Crimea.
After his most recent arrest, Medvedchuk was again accused of high treason, 154 assets were seized, including vehicles, land and real estate, and lawsuits were brought in connection with his alleged role as a collaborator with the Russian Armed Forces in connection with the war with Ukraine about twenty companies of which he was a beneficiary.