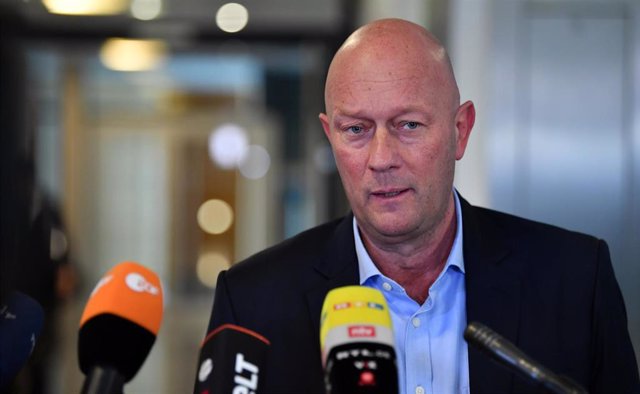 Thomas Kemmerich, resigned prime minister of Thuringia – Martin Schutt / dpa-Zentralbild / dp
As he himself advanced this week, the prime minister of the German state of Thuringia, the liberal Thomas Kemmerich, has resigned this Saturday with immediate effect after the scandal raised by his election, which occurred with the support of the extreme right, as announced by its German Liberal Party (FDP) in this region.
At the same time, the government coalition that forms the Christian Democratic Union (CDU), Chancellor Angela Merkel, its Bavarian partner, the Christian Social Union (CSU), and the Social Democratic Party (SPD) have demanded the holding of new elections in this state of eastern Germany.
The Thuringian Prime Minister resigns immediately for electoral controversy with AfD
"We ruled out the formation of a government and political majorities with the votes of the (alternative right-wing Alternative for Germany) AfD. This is and remains the decision for all levels of the parties that form the coalition," said a statement issued in Berlin .
The coalition not only demanded that a new prime minister in Thuringia be elected without delay, but urged to call new elections in the region as soon as possible "for reasons of legitimacy of politics."
The statement emphasizes that it is important to quickly ensure stable and clear conditions in Thuringia and added that the election of the prime minister with a majority based solely on the votes of the AfD was "an unforgivable fact."
For its part, Kemmerich announced both his resignation and the return to the State Treasury of the earnings earned by the charge. "I hereby declare my resignation as head of Government of the Free State of Thuringia with immediate effect," he says in his resignation statement
After the election of Kemmerich last Wednesday, the FDP and the CDU were put under heavy pressure throughout the country because, like the AfD, they surprisingly opted for the liberal candidate as the new Prime Minister of Thuringia in the third round Voting
The liberal candidate, whose party had barely managed to enter the regional parliament in the elections held a few months ago, prevailed over outgoing Prime Minister Bodo Ramelow, of the La Izquierda party. Ramelow got 44 votes, while the new prime minister was elected by only one vote of difference with 45 votes.
This is the first time that a prime minister is elected with votes from AfD, led in the region by Björn Höcke, founder of the most radical wing of the party whose existence is classified by the Office of Protection of the Constitution as a suspected case of extremism from right.