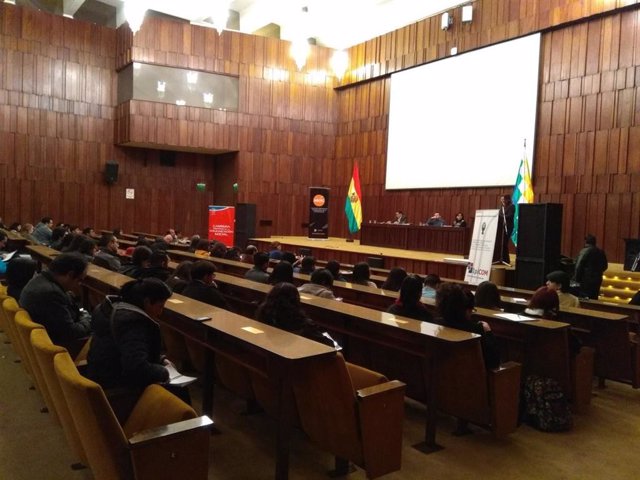 The Supreme Electoral Tribunal (TSE) of Bolivia – TWITTER / @TSEBOLIVIA – Archive
MADRID, Jan. 3 (EUROPE PRESS) –
Óscar Hassenteufel, a member of the Supreme Electoral Tribunal (TSE) of Bolivia, announced Friday that the general elections will be held on May 3, the first Sunday of the month, according to information from the local newspaper 'El Debe'.
The Supreme Electoral Tribunal of Bolivia sets general elections for May 3
"On Monday everything will be published, (the elections will be) on the first Sunday of the month of May, so far I can advance them," Hassenteufel explained in a brief press conference in the city of Sucre.
The member has also argued that the call will be made public before January 6 and that the budget for these elections will be approximately 200 million Bolivians (26 million euros), less than used in the controversial electoral process from last October 20.
It is estimated that the registration period lasts about nine days, as indicated by official sources.
When asked about the bill proposed by the Government, which forces candidates to debate, Hassenteufel has said that it is an interesting initiative because elections must be a process where citizens are informed about the candidates, their objectives and plans of work.
"It is not enough to know the figure of the candidate, the population must vote knowing how each candidate plans to carry out their action plan," he said.
Already on Wednesday the president of the TSE of Bolivia, Salvador Romero, expressed his intention to announce the call for general elections before January 6 or "no later" that same day.
The political crisis in Bolivia broke out after the presidential elections of October 20, in which the now former president Evo Morales proclaimed his victory but the opposition denounced a "gigantic fraud." The Organization of American States (OAS) audited the electoral process in which it found "irregularities."
Morales resigned on November 10 and fled to Mexico from where he later moved to Argentina. Jeanine Áñez, second vice president of the Senate, proclaimed herself interim president to fill the power vacuum left by the former president and the resignation of other senior officials.
Neither Morales nor his followers recognize Áñez because they believe that his stay at the Burned Palace is the result of a "coup d'etat". She, for her part, has reiterated that she will only be in office until the elections are called.