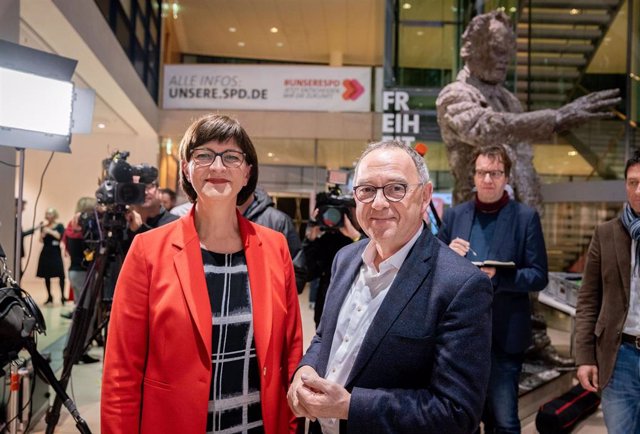 Norbert Walter-Borjans and Saskia Esken, new leaders of the German Social Democratic Party (SPD) – Kay Nietfeld / dpa
BERLIN, Nov. 30 (EUROPE PRESS) –
The German Social Democratic Party (SPD) has elected Norbert Walter-Borjans and Saskia Esken as primary leaders in the formation, critical candidates with the great coalition between the SPD and the Christian Democratic Union (CDU) that supports Chancellor Angela Merkel The defeated are the current German finance minister, Olaf Scholz, and Klara Geywitz.
This election is the result of an internal consultation of the 425,630 members of the Social Democratic formation and must be ratified at the party congress scheduled for December 6, 7 and 8. Once confirmed, the first measure they will carry out will be to convene a consultation on the continuity of the SPD in the Government, since Walter-Borjans and Esken defend a renegotiation of the government agreement or, otherwise, the departure of the Executive.
Many voices within the SPD defend the departure of the great coalition and rebuild support for the party from the opposition, which would probably lead to the advance of German federal elections.
After knowing the outcome of the primaries, the Secretary General of the CDU, Paul Ziemiak, has launched a conciliatory message: "We hope to collaborate with a spirit of trust for the benefit of our country."
However, he has defended the current government agreement. "Today's decision does not change those foundations," said the leader of the Merkel party.
"Win who wins these primaries will have the absolute support of the party in its entirety," said Foreign Minister and SPD leader Heiko Maas, before knowing the outcome of the consultation. "We need absolute unity to credibly support our position on social justice," he said.
The historic SPD is in low hours after an inexorable fall in popular support. In the last federal elections, those of 2017, the party hit bottom with its worst result since 1933. The polls now forecast a 14 percent support, behind the Merkel CDU and the Los Verdes environmental training. Yes their would be to the far right of Alternative for Germany (AfD).