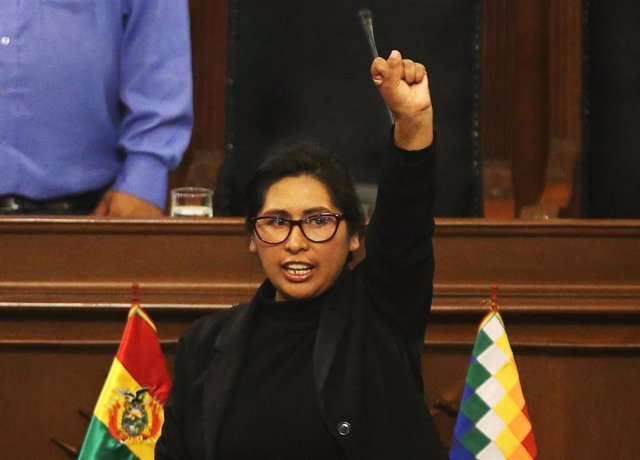 Senator Eva Copa Murga is appointed president of the Senate of Bolivia – REUTERS / LUISA GONZALEZ
MADRID, Nov. 15 (EUROPE PRESS) –
The Senate of Bolivia has unanimously appointed Thursday the senator of the Movement to Socialism (MAS) Eva Copa as the new president of the Lower House, in the midst of a political crisis following the resignation of Evo Morales as president.
The Senate of Bolivia unanimously approves the appointment of Eva Copa as president of the Chamber
Likewise, the Senate has appointed Pedro Montes – of the MAS – first vice president of the House and Carmen Eva Gonzales – of the National Unity Front (UN) – second vice president. In this way, the Senate has recomposed its entire directive.
After being named, Copa has indicated that his party, led by former President Morales, is willing to "make viable" new elections to find a way out of the crisis in the country.
"We have been able to agree on the opposition and official benches with the sole objective of being able to make the new elections viable as soon as possible, to be able to pacify our country and, above all, to defend democracy," Copa said, according to the news agency Reuters
Bolivia is in deep crisis since the presidential elections of October 20. The official results gave Morales the victory, but the opposition candidate Carlos Mesa denounced a "gigantic fraud" of the Government.
Both sides called for the mobilization of their supporters, which resulted in clashes, blockades and looting that have resulted in at least ten dead and hundreds of detainees.
In this context, Morales agreed that the Organization of American States (OAS) conducted an electoral audit that has finally confirmed irregularities. In response, the still president agreed to hold new elections, despite which the Armed Forces claimed his departure from the Burned Palace.
Morales resigned on the same Sunday and Monday night (local time) embarked on a plane to Mexico, where he arrived Tuesday as a political asylum. "As long as I have life, we continue in politics," he has already proclaimed on Mexican soil.
The then second vice president of the Senate, Jeanine Añez, has proclaimed herself acting president, given that both the vice president, Álvaro García Linera, and the presidents of the Senate and the Chamber of Deputies – which would precede it in the succession line drawn by the Constitution- – have also resigned. You have already appointed a new Government.