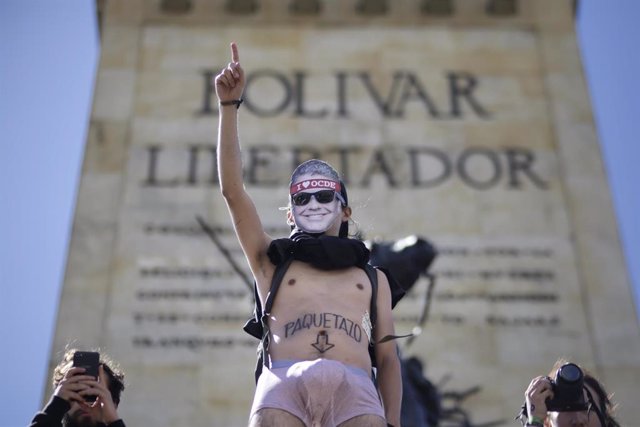 Protests in Colombia. – Sergio Acero / colprensa / dpa
Announces a new meeting for Wednesday
MADRID, Dec. 6 (EUROPE PRESS) –
The second meeting held between the Government of Colombia and the National Committee of the Unemployment has been settled this Thursday without agreement, so the mobilizations in the country will continue.
The representatives of the Government, the director of the Administrative Department and the Colombian ambassador to Costa Rica, Diego Molano and Angelino Garzón, respectively, have asked the Committee to deliver a text explaining in detail each of the thirteen requests of the same.
"We want to know the scope of each request to be able to speak responsibly and know which sectors are involved," Molano has specified, as Caracol Radio has collected.
"We have asked you to specify each of the thirteen points so that this does not become an accordion that opens and closes," Garzón added.
On the other hand, Diogenes Orjuela, the president of the Unitary Central of Workers (CUT), one of the organizations that integrates the Committee, has explained that "the difference is kept thoroughly with the Government in the character of the table (.. .) is making a maneuver to lower the (thirteen) (negotiating) points at his own initiative, but contrary to what he knows is our position. "
In this context, Orjuela has announced that the mobilizations convened are maintained. "The strike does not stop, the mobilizations continue," he said in a press appearance that has spread through Twitter.
Thus, for Sunday there is a concert scheduled, 'Turn on your voice, a song for Colombia'; for Monday, a concentration in the place where the minimum wage is negotiated; and a 'Bogota takeover' the day the tax reform is voted.
The document with the thirteen Committee demands will be delivered on Tuesday and Wednesday the parties will meet again.
Colombia already has fourteen days of protests starring unions, students and other social organizations in which there have been clashes with security forces that have left at least one dead and dozens injured.
The main demands are social improvements, as well as greater security in the territories affected by the armed conflict, although they also include the Government resuming the peace dialogue with the guerrilla of the National Liberation Army (ELN).
The president of Colombia, Iván Duque, initially offered a "great national conversation" that, in addition to the protesters, includes businessmen and representatives of various sectors, but the National Committee of the Stop refused demanding a bilateral negotiation.
Finally, the Government has agreed to an exclusive dialogue with the National Unemployment Committee, although it has not renounced its "great national conversation" which, as Molano explained, will take place in parallel.