The SDS accuses Turkey of continuing to attack civilians in northeastern Syria despite the ceasefire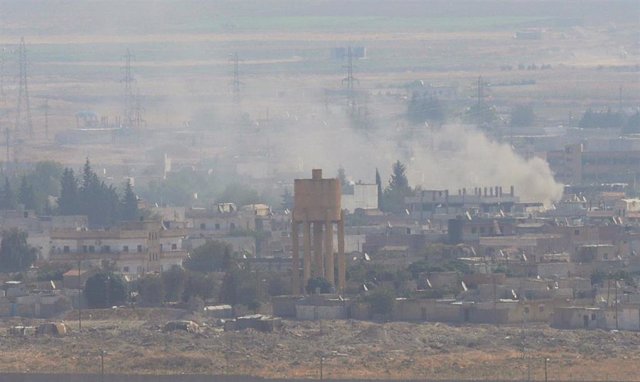 Bombings in Ras al Ain – REUTERS / STOYAN NENOV
MADRID, Oct. 18 (EUROPE PRESS) –
The Syrian Democratic Forces (SDS) on Friday accused the Turkish troops of having violated the ceasefire reached on the eve between Turkey and the United States and that provides for the cessation of hostilities for five days in northeastern Syria.
"Despite the agreement to suspend the fighting, air and artillery attacks continue to reach the positions of combatants, civil settlements and the Ras al Ain hospital," said SDS spokesman Mustafa Bali on Twitter.
"Turkey is violating the ceasefire by continuously attacking the town since last night," the SDS spokesman insisted, thus confirming what Kurdish sources had advanced to DPA, which had indicated that the Turkish attacks had reached Ras hospital To Ain
U.S. Vice President Mike Pence announced Thursday that Turkey will suspend its military offensive for 120 hours to allow Syrian Kurdish fighters to withdraw from the so-called 'safe zone' that Ankara wants to create in northeastern Syria.
The SDS, led by the Syrian Kurdish militiamen of the Popular Protection Units (YPG), have accepted the ceasefire that entered into force at 10 pm Thursday.
Turkey considers the YPG Syrian Kurdish militia as an extension of the Kurdistan Workers Party (PKK), a group that it regards as a terrorist organization. The United States has supported the YPG in its military campaign against the Islamic State in Syria and its role has been key to the defeat of the terrorist group led by Abu Bakr al Baghdadi.