The Salvadoran victims of the massacre of 'El Mozote' claim "truth and justice" 38 years later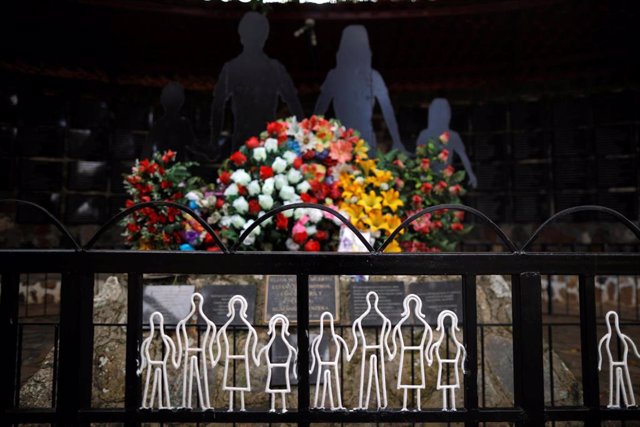 Monument commemorating the massacre of 'El Mozote', in El Salvador. – REUTERS / JOSE CABEZAS
CACAOPERA (EL SALVADOR), Nov. 10 (Reuters / EP) –
The victims of the massacre of 'El Mozote', which took place in December 1981, during a military operation in Morazán during the start of the civil war that El Salvador suffered between 1980 and 1992, claim to "know the truth" and that " justice is done ", 38 years after the event.
"Our flag of struggle is to know the truth, that justice be done, that there be reparation and that these facts never happen again," said Fidel Pérez, who at age seven survived the outbreak of a grenade launched by a soldier inside a cave where he had sought refuge with his relatives and neighbors.
The explosion caused Pérez to faint, although he hardly suffered minor injuries. However, upon awakening, he realized that his mother and one of his sisters were among the twelve fatalities of the attack.
Fearful that the soldiers would return for them, the eight survivors buried their loved ones right there and fled the place. They did not return until 1994 to exhume their remains and bury them in Cacaopera, a predominantly indigenous community where they settled after the end of the war.
Now, Judge Jorge Guzmán, who is looking for new evidence about the massacre of 'El Mozote', has ordered the bones of Perez's mother and sister to be exhumed, and they are expected to shed light on what happened.
A report from the United Nations Truth Commission concludes that between December 10 and 13, 1981, soldiers tortured and executed more than a thousand residents of the El Mozote farmhouse and other nearby places in the department of Morazán, 180 kilometers away. northeast of the capital of the country, San Salvador, in search of guerrillas.
"The most difficult are the traces marked in the mind, in the heart of one, of leaving an abandoned family member," said Pérez, who escaped with his father and another brother.
Sixteen retired military personnel, including the former Minister of Defense of El Salvador, José Guillermo García, are accused of planning and ordering the massacre.
However, none will go to jail if Congress passes a new law that would give amnesty to those responsible for civil war crimes, both military and guerrilla.
The initiative is part of the so-called Reconciliation Law ', which seeks to repair the victims and put an end to the aftermath of the conflict, which left 75,000 dead and some 8,000 missing and is expected to be approved in the coming days.
Human Rights experts say that the law would not prevent those responsible from being convicted, but that they would step on jail, while they could commute the sentences for social work or house arrest.
"It is a mockery for thousands of crimes and specifically, in the case of 'El Mozote', a mockery after killing more than a thousand peasants, mostly children," explained Wilfredo Medrano, the lawyer who represents 60 families of victims, during the exhumations in Cacaopera.
If legislators fail to approve the project before November 13, they could request a four-month extension.
"Hopefully justice will be done, because they were not animals that killed here," said María Núñez de Márquez, a 61-year-old housewife whose in-laws and her husband's five brothers were also killed in 'El Mozote' .
The president of El Salvador, Nayib Bukele, who assumed his mandate in June, met that month with relatives of the victims and reiterated his commitment not to support "any" amnesty law, according to his office.