The Russian Government announces his resignation after Putin's speech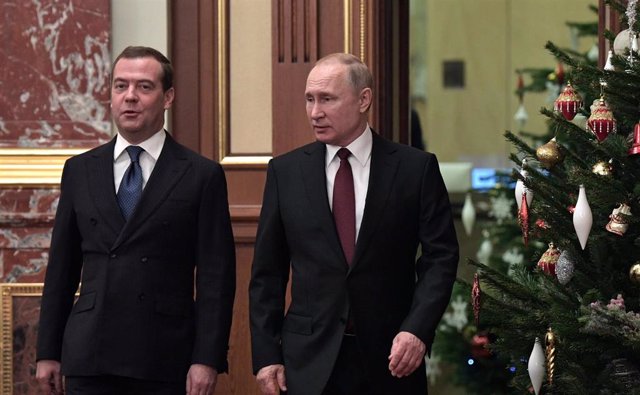 Dimitri Medvedev and Vladimir Putin – – / Kremlin / dpa
Russian Prime Minister Dimitri Medvedev has announced the resignation in block of the Government, shortly after the president, Vladimir Putin, delivered a speech before Parliament in which he advocated reviewing the current protocols for the appointment of the Executive.
The resignation derives from the proposal put forward by the president on Wednesday to provide "greater responsibility" to the Parliament in the formation of government and that it is the Lower House (Duma) who approves the candidacy of the prime minister, a position that Putin precisely held between 2008 and 2012 after covering his first stage in the Kremlin and not being able to aspire to re-election.
Under this new balance of powers, the president "will not have the right to decline the nominations approved by Parliament" and will be "obliged" to abide by these appointments, said Putin, a supporter of a referendum to introduce constitutional amendments.
Medvedev has assumed in a meeting with Putin broadcast on television that these are "fundamental changes" that would modify not only the content of the Magna Carta, "but also the balance of powers as a whole" in Russia, according to official news agencies .
For this reason, it considers it "obvious" that the Government has to depart to give the maximum political responsibility of the country the "opportunity" to make "all the necessary decisions" in the medium term.
Putin has thanked Medvedev, satisfied with the "joint work" developed in recent years. "We have not been able to do everything, but you can never do everything," said the president during the meeting, in which he asked the members of the Government to remain in office for now.
Putin, however, would have already sought accommodation for whoever was president during the four years in which he could not be in the Kremlin, since Medvedev has agreed to be the 'number two' of the Security Council, an advisory body that advises the President on national security issues.