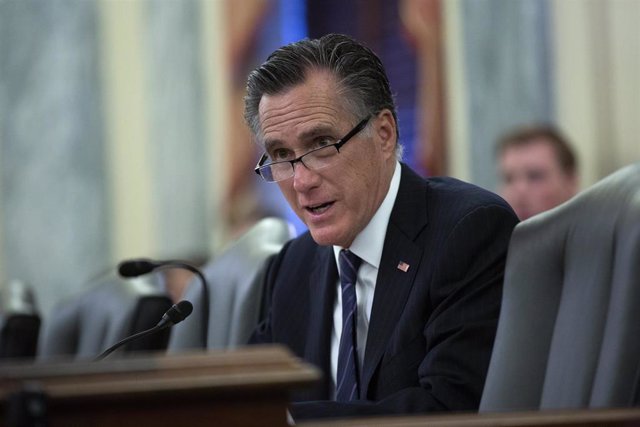 Mitt Romney – Stefani Reynolds – Archive
WASHINGTON, 27 (EUROPE PRESS)
The publication of the supposed draft of a book by former US National Security advisor John Bolton that would come to confirm the pressures to Ukraine of the president, Donald Trump, has sharpened the cracks in the Republican majority, to the point that it is no longer ruled out that Democrats may cite a key witness during the Senate trial.
According to the Bolton manuscript, confirmed to 'The New York Times' by several people who have been able to read it, Trump told him in August that he wanted to continue blocking the delivery of the 391 million dollars of military aid to Ukraine until the Kiev authorities They promised to investigate Joe Biden and his son Hunter.
The revelation coincides with the start of the second week of the impeachment trial against Trump in the Senate, where Republicans have enforced their majority so far to control the timing and format of the process. Democrats have tried in vain to call key witnesses, including Bolton himself, to determine if the president abused his power.
The Democratic bloc needs at least four defections in the Republican ranks and Senator Mitt Romney, critical of Trump, has opened the door to change the balance on Monday. According to Romney, "it is increasingly likely" that the proposal to convene new witnesses will proceed.
In addition to the change of Romney, which he himself confirmed to journalists on Monday – "it would be important to hear John Bolton," he said -, the US media also speculates with a possible turn of Susan Collins, Lisa Murkowski and Lamar Alexande .
Collins has said in a statement that "he had always" considered "the citation of witnesses", as was done in 1999 in the trial against (Bill) Clinton. "The information on the book by John Bolton reinforces the arguments of those they ask for witnesses and have provoked several conversations between my classmates, "he added.
TRUMP DEFENDS
Trump, who has labeled the entire process "fraud", has been unmarked from the organization of the trial claiming that it is the responsibility of the Senate, but has questioned whether certain people can be called to testify, including Bolton himself, for considering that It would create a national security problem.
"I never told John Bolton that aid to Ukraine was linked to investigations into Democrats, including the Biden," the US president said in a tweet. "If John Bolton said this, it was only to sell a book," he added.