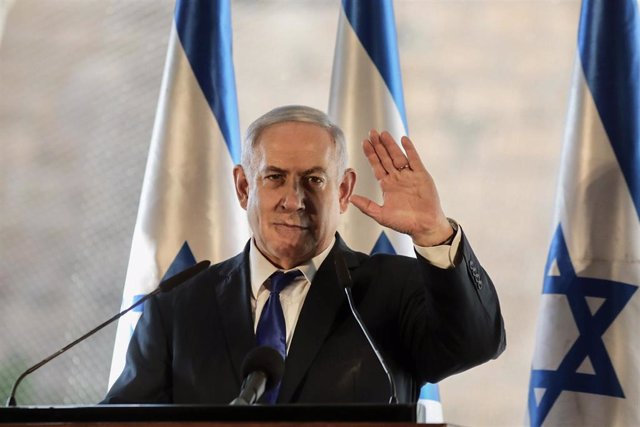 The Prime Minister of Israel, Benjamin Netanyahu – Ilia Yefimovich / dpa – Archive
He claims that he also intends to impute a prominent businessman and a former Navy chief
MADRID, Dec. 5 (EUROPE PRESS) –
The Israeli Prosecutor's Office announced Thursday its intention to charge David Shimron, personal lawyer of Israel's Prime Minister, Benjamin Netanyahu, for money laundering in a corruption case known as the "submarine case".
He has also announced that he intends to also charge the businessman Miki Ganor, representative of Thyssenkrupp in Israel, and the former head of the Israeli Navy, Elieze Marom, as collected by the local newspaper 'Haaretz'.
The case revolves around two agreements signed in 2016 for the purchase of submarines and other vessels from Thyssenkrupp worth nearly 2,000 million euros. Police recommended in 2018 to charge Shimron for mediating a bribery agreement.
The case came to light when Shimron – who is also a relative of Netanyahu and Ganor's lawyer – was hired by the Israeli representative of Thyssenkrupp Marine Systems.
The Prosecutor's decision is a blow to the nearby circle of Netanyahu, less than a month after the prime minister himself was charged with bribes, fraud and breach of trust.
In response, Netanyahu spoke of an "attempted coup" against him and said the process "is contaminated by foreign interests with the goal of overthrowing a right-wing prime minister."
Thus, he stressed that "it is a sad day" and that "one has to be blind to not see that something bad is happening in the legal system." In this regard, he asked to "investigate the investigators" for what he has described as "infected cases."
Despite this, a day later he said he will respect the ruling. "Of course, I want to make it clear that this whole process will be decided in court," he said. "We will accept the decision of the court, there is no doubt about that," he settled.
The most serious of all is the 4000 case, in which it will face charges for bribes, fraud and breach of trust for promoting regulations that benefited the majority shareholder of the Bezeq group, Shaul Elovitch, in exchange for favorable coverage of the Walla portal .
In case 1000, the prime minister will be charged for fraud and breach of trust for receiving illegal gifts valued at 700,000 shekels (about 183,000 euros) in exchange for favors.
On the other hand, in the 2000 case, he has been charged with fraud and breach of trust for agreeing with 'Yedioth Ahronoth' to weaken Israel Hayom's competition newspaper – favorable to Netanyahu – in exchange for more favorable coverage to the prime minister. in the first half.