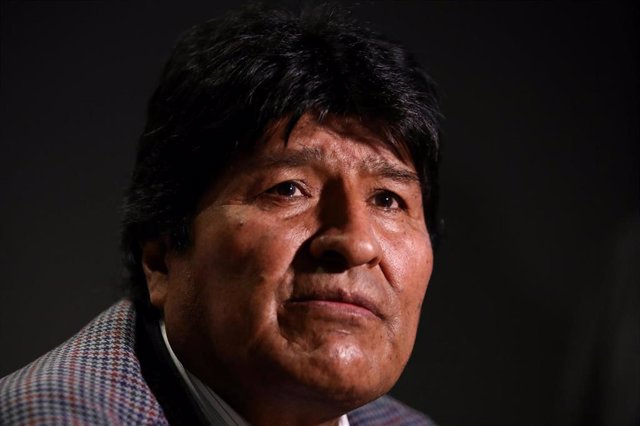 The former president of Bolivia Evo Morales – REUTERS / EDGARD GARRIDO
MADRID, Dec. 18 (EUROPE PRESS) –
The Prosecutor's Office of Bolivia has issued an arrest warrant on Wednesday against the former president of the country Evo Morales for sedition and terrorism, crimes that he is accused of having ordered to enclose important cities within the framework of post-election protests.
"The arrest warrant was issued against Mr. Juan Evo Morales Ayma," said the head of the Public Corruption Division of the Prosecutor's Office, Luis Fernando Guarachi, according to the official news agency ABI.
The arrest warrant is also directed against Faustino Yucra, the 'cocalero' leader who speaks with Morales in the telephone conversation that led to the criminal investigation against the former president.
In the recording, which the Government of Jeanine Áñez made public, the voice attributed to Morales urges Yucra to "fight hard against the fascists and racists." "It's going to be time for combat, combat, combat … With the people of El Salvador and other sectors, we are going to defeat them," he says.
Specifically, he orders them to make "real fences" so that "no food enters the cities." In addition, he explains that, so that people do not "get tired", organize them into groups that rotate "every 24 hours." "There is blocking until winning, brother," he says.
The Government had already announced that it would denounce Morales before the Bolivian courts for sedition and terrorism and before the International Criminal Court (ICC) for crimes against humanity.
However, the Public Ministry has clarified that it has acted ex officio for "the alleged commission of crimes of sedition, terrorism and terrorist financing" that reaches the "co-authors, accomplices and cover-ups."
The Prosecutor's Office specifies in the arrest warrant that it can be executed at any time with the help of the Public Force, respecting the exercise of the constitutional rights and guarantees of the suspects.
Both Morales and Yucra are in Argentina. The indigenous leader resigned on November 10 after confirming the "irregularities" in the presidential elections on October 20. He first arrived in Mexico, where he spent almost a month as an asylee, but last week he arrived in Argentina as a refugee after a brief stopover in Cuba for medical reasons.
Morales argues that, due to his status as a former president, he can only be prosecuted through the so-called trial of responsibility, although the allegations made so far against him have been processed by ordinary means.