The Prosecutor's Office confirms that the nine protesters killed in Cochabamba died from gunshot wounds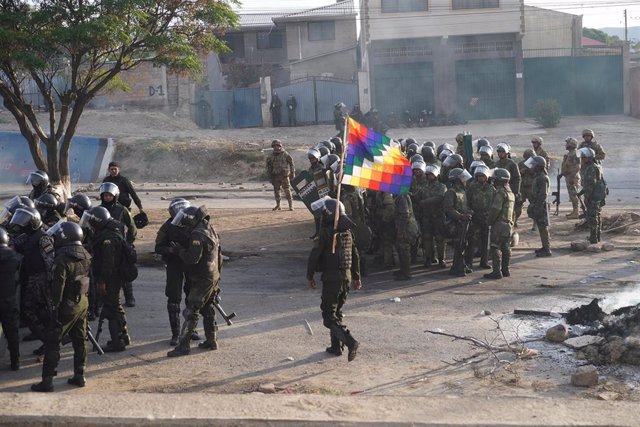 Protests in Sacaba, Cochabamba – REUTERS / DANILO BALDERRAMA
MADRID, Nov. 19 (EUROPE PRESS) –
The state attorney general, Juan Lanchipa, reported Monday that the autopsies of the nine fatalities of the clashes between protesters and police in the town of Sacaba, in Cochabamba, suggest that they died as a result of gunshot wounds caused by "long guns."
The Forensic Investigation Institute (IDIF) has previously identified the characteristic of "long weapons" in relation to the type of hole the victims presented, as reported by the local newspaper 'Los Tiempos'.
"Legal medical autopsies have been continuously developed (…) the dimensions and characteristics of the entry holes preliminary correspond to long firearms, in any case they are being subjected to technical expertise by the IDIF", has Lanchipa explained.
As you have warned, each of the bodies has different trajectories of the projectiles. Five have oblique trajectory with exit holes in the thorax or abdomen, two other bodies have entry holes in the back and the rest have entry holes in the front part of the body.
Of the nine people killed in the Huayllani bridge, eight have an entry and exit hole, so the bullets have not been recovered. Only one body has been able to extract a bullet, which is being subjected to a ballistics analysis, as indicated by the IDIF director, Andrés Flores.
Violence broke out on Friday in Cochabamba, where it resulted in nine deaths by firearm, more than 115 wounded and 200 arrested, after hard clashes between coca producers of the Six Federations of the Tropic of Cochabamba and a military police contingent that guarded the step on the Huayllani bridge, at kilometer 10 of Villazón avenue, in Sacaba.
After the riots, Cochabamba Police Commander Jaime Zurita indicated that several firearms, artisanal and explosive bazookas had been seized from the protesters.