The Prime Minister of Japan meets with his South Korean counterpart to discuss commercial and historical disputes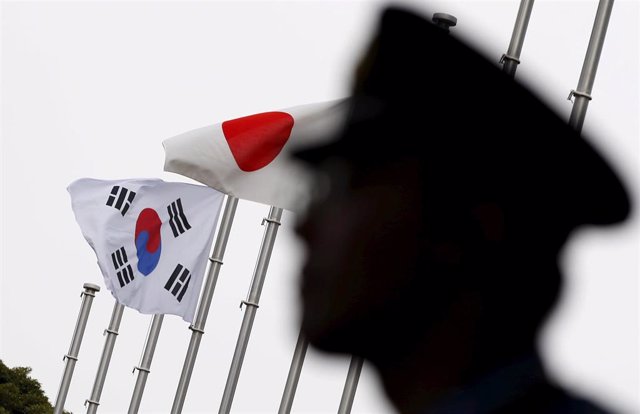 Flags of South Korea and Japan – REUTERS / TORU HANAI – Archive
TOKYO, Oct. 24 (Reuters / EP) –
The Prime Minister of Japan, Shinzo Abe, met Thursday with his South Korean counterpart, Lee Nak Yon, to discuss historical and commercial disputes between the two countries, an issue that has been biasing bilateral relations.
The tension between Tokyo and Seoul, two allies of Washington, have been deteriorated since the Supreme Court of South Korea ordered several Japanese companies last October to compensate South Koreans who did forced labor during World War II when Japan occupied Korea.
Japan, for its part, insists that this matter was settled with the 1965 treaty, which normalized relations between countries. Thus, it marks the decision to violate International Law in the framework of a dispute that has already extended to trade and security.
One hundred journalists were present when the talks began, the highest level that have occurred between the parties since the dispute began.
Several media outlets said Lee, who was in Tokyo to attend the enthronement of Naruhito, would deliver a letter to Abe from South Korean President Moon Jae In. Moon and Abe have not met for more than a year.
The enmity between the two countries is linked to Japan's occupation of the Korean peninsula between 1910 and 1945, the use of forced labor by Japanese companies, as well as those known as 'comfort women' – used as slaves during the colonial period – and the attribution of islet sovereignty.
In relation to the North Korean issue, Abe stressed that the two countries constitute important neighbors in the region, so it is of great importance that they work together to address the problem posed by the Pyongyang nuclear program.
Abe and Lee have thus agreed to boost cooperation with the United States to resolve the issue of denuclearization in North Korea.
In addition, the Japanese leader has lamented that relations between Seoul and Tokyo are in a serious situation and has urged them to improve instead of leaving them that way.