The president of Ukraine denies that there was an exchange of favors with Trump to investigate Biden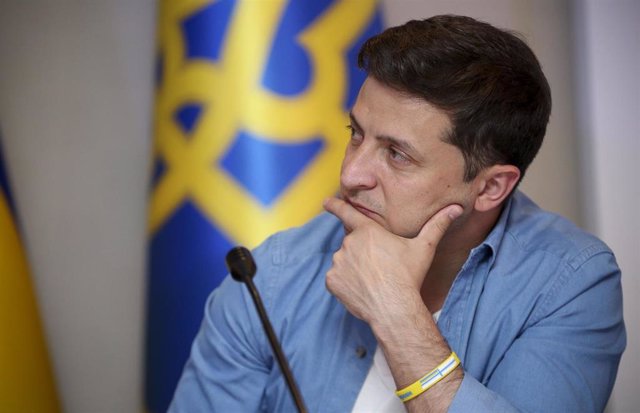 Volodimir Zelenski – PRESIDENCY OF UKRAINE – Archive
Trump says Zelenski's words make it clear that he did nothing wrong in his contacts with Ukraine
KIEV, Dec. 2 (DPA / EP) –
The president of Ukraine, Volodimir Zelenski, has denied that there was an exchange of favors with the US president, Donald Trump, for the Ukrainian authorities to investigate Hunter Biden, son of former US vice president Joe Biden, in exchange for hundreds of millions of military aid to Kiev.
In an interview published Monday by the German magazine 'Der Spiegel', Zelenski has said he never spoke with Trump about an exchange of favors ('quid pro quo').
"Without a doubt, I did not speak with President Trump in that way, in the sense of 'you give me this and I give you this," Zelenski said. The telephone call made on July 25 by the president of the United States to the president of Ukraine, in which he asked him to do "the favor" of the Attorney General's office investigating the son of Joe Biden for his role on the board of directors of a gas company, has caused the Democrats to launch in the House of Representatives a process of parliamentary impeachment (Trump) against Trump.
After Zelenski's interview, Trump hastened to underline that his words make it clear that there was no 'quid pro quo' and has claimed the end of the impeachment process in Congress. "Breaking news: the president of Ukraine has just announced that President Trump has done nothing wrong in relation to Ukraine and our interactions and calls," said the president of the United States, in a message posted on his personal account of Twitter social network. "If the radical left Democrats were sane, they are not, the case would be closed," he proclaimed.
Trump's controversial call to Zelenski sparked a complaint lodged by an intelligence official internally and led Democrats to activate the parliamentary impeachment process. The phone call came days after Trump decided to block a package of more than $ 300 million of military aid to Ukraine that had already been authorized by Parliament.
In the interview with 'Der Spiegel', Zelenski stressed that he does not want "Ukraine to be a piece on the chessboard of the great powers." The Ukrainian president has also affirmed that since his mandate, Ukraine has focused its efforts to end corruption, one of its main campaign promises. "The authorities have been corrupt for a long time but we are cleaning," he said.