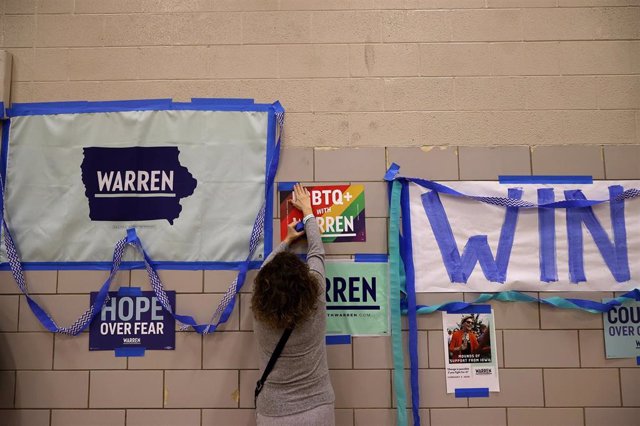 Caucus of the Democratic Party in Iowa – GETTY IMAGES / CHIP SOMODEVILLA
MADRID, Feb. 13 (EUROPE PRESS) –
The president of the Democratic Party in Iowa, Troy Price, on Wednesday presented his resignation for the problems in the recount of the primaries, which resulted in the victory of the candidate Pete Buttigieg after doubts about the process raised by the failures in the data transmission.
The president of the Democratic Party in Iowa resigns over the problems in the primary count
"There is no doubt that the process of reporting the results did not work," Price said in a letter sent to the Democratic Party in Iowa in which he reports on his decision. "It was simply unacceptable," he lamented.
"The fact is that the Democrats deserved better than what happened on the night of the caucuses (of Iowa)," he continued, while ensuring that, as president of the party, he is "deeply sorry for what happened" and which assumes "responsibility for any failure" on behalf of the party.
"I think it is time for the Democratic Party in Iowa to move forward, and my presence in my current position makes it more difficult. Therefore, I will resign as president effectively after the election of my replacement," Price concluded.
The final results of the neighborhood assemblies in Iowa placed Buttigieg as the candidate with the most support, just over 1,500 against the second classified, the Vermont senator Bernie Sanders.
This, meanwhile, was declared the winner without the Democratic Party having completed the accounting of the results. Sanders won the popular vote in Iowa, but has fewer delegates than Buttigieg, 12 versus 14. It is the delegates who determine the victory in the Iowa caucus, not the popular vote.
The president of the National Democratic Convention, Tom Perez, requested a new recount to clear all doubts about the process.
The Iowa caucuses or neighborhood assemblies are the first appointment of the long and complex process of primaries within the Democratic Party to designate the candidate who will face the current president, Republican Donald Trump, in the November 2020 presidential elections.