The president of the Chilean Senate rejects the possibility of decreeing the state of emergency again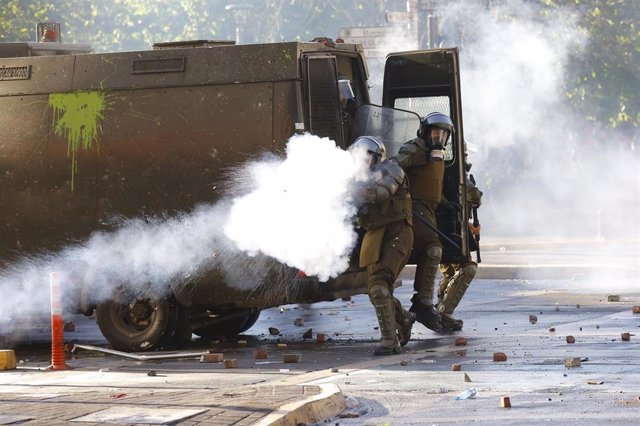 Incidents during protests in Chile – AGENCIAUNO / SEBASTIAN BROGCA
MADRID, Nov. 8 (EUROPE PRESS) –
The president of the Chilean Senate, Jaime Quintana, on Thursday rejected the possibility of decreeing the state of emergency again and said that the president, Sebastián Piñera said so.
"There are no conditions to return to the states of exception, which finally brought violence," said Quintana after the meeting of the National Security Council (Cosena) convened in La Moneda, according to the Bio Bio Chile station.
"Chile and the world are watching us. Under no circumstances will we accept the violation of fundamental rights, and that is why I asked the Government to authorize as soon as possible the mission requested by the Inter-American Commission on Human Rights to observe the situation that affects the country" , he said later in a statement posted on Twitter.
Quintana has indicated that the Cosena meeting "was neither necessary nor productive", something in which the president of the Chilean Congress, Iván Flores, agreed.
"We are not here for ambiguities or to continue to generate confusion. I think it should not have summoned Cosena, because the same thing we discussed could have been discussed in another context," added Flores.
The president of the Senate has once again insisted on the need for a new Constitution. "I think that the Government must give a solution to the underlying issues, it must be much bolder in the social agenda … That has a common denominator that is the current fundamental letter, which prevents being able to establish social rights where today only there is business, "he said.
For his part, Interior Minister Gonzalo Blumel has referred to the issues discussed in Cosena and stressed that "we must strengthen and modernize the police, in particular police."
Blumel has highlighted the "extremely difficult work" of the Police and has indicated that "it needs more resources, more capabilities and greater modernity to be able to perform the best possible way to protect public order."
"There was a lot of consensus on the need to modernize the intelligence system, which is possibly the task in which we are most owed as a country and that we are going to have to address on this front with the maximum sense of urgency," he added.
Protests in Chile broke out on October 17 against the fourth rise in the price of the subway in a few months and grew rapidly to denounce social inequality and raise the need to elaborate a new Constitution.
Piñera, who came to declare the state of emergency deploying to the Armed Forces, apologized for not hearing the clamor of the Chileans and proposed a "social agenda." To make it a reality, it has remodeled the Government and initiated a dialogue with the political parties, both opposition and official.
In these weeks, at least 19 people have died from clashes between protesters and security forces and over a thousand have been arrested. The National Institute of Human Rights (NHRI) has denounced torture and other abuses against people detained in the context of the protests.