The president of Taiwan accuses China of interfering in her elections "every day"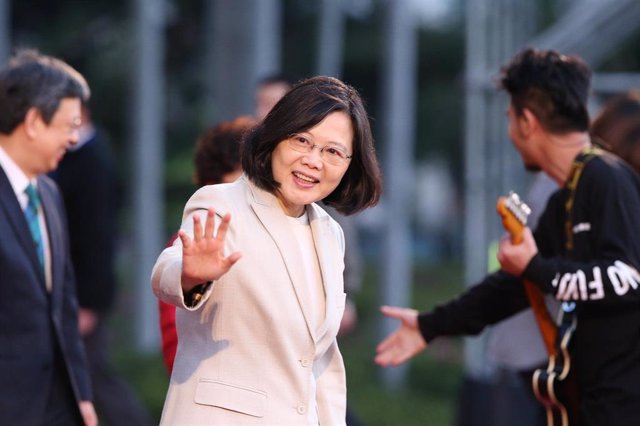 The president of Taiwan, Tsai Ing Wen, on an official trip through Central America – DPA / PRESIDENCY OF TAIWAN – Archive
TAIPÉI, Nov. 19 (Reuters / EP) –
Taiwan President Tsai Ing Wen has said China is interfering with the Taiwanese elections "every day" in an attempt to undermine its democracy, a message it has launched after a Chinese aircraft carrier sailed near its coast during the Weekend.
The electoral campaign, also focused on the elections to the Taiwanese Parliament, has begun with a high level and with a clear follow-up by neighboring China, which maintains that Taiwan is still part of its territory and could put it under its domain if considered necessary.
On Sunday, China deployed the combat group led by an aircraft carrier in the Taiwan Strait just on the same day that Tsai announced the 'number two' of his electoral list, former Prime Minister William Lai, a designation that has caused discomfort in China for their declarations in favor of independence.
The Government of Taiwan has denounced that the passage of the aircraft carrier through the strait is a maneuver intended to intimidate Taiwanese voters. China fears that Tsai and its formation, the Democratic Progressive Party, will formally promote an independence process, a 'red line' through which the Beijing government passed the so-called "anti-secession" law in 2005, which allows it to use force in Taiwan if necessary.
Speaking to the press after officially registering for re-election in the elections of January 11, Tsai has said that these elections come at a crucial time because China is increasing its pressure and because it is suffering the impact of Hong Kong protests.
"Taiwan is a sovereign and independent country. Our people have the right to elect their own president," said the president of Taiwan. When asked whether he supports Taiwan's independence, Tsai has said that the island is already sovereign. "We have sovereignty. We have government. We have a free democratic system. We defend ourselves and we have diplomatic relations. This is Taiwan, that's what I'm talking about," he stressed.
The president has said that China's attempts to interfere in the Taiwan elections "are clear" and "easily seen" because they aim to undermine Taiwanese democracy. "As a large country, at regional and international level they have the responsibility of maintaining regional peace and stability," he said, referring to the Chinese authorities.
"China's intervention in the Taiwan elections is happening and is happening every day," he said. China has ensured that the deployment of the aircraft carrier is a routine exercise and that it has no particular objective.
In January, the president of China, Xi Jinping, said his country reserves the right to use force to bring Taiwan back under its control, although it still advocates a peaceful "reunification." Tsai leads the polls against its main rival, Han Kuo Yu, leader of the Kuomintang party, more favorable to China.