The president of Lebanon postpones until Thursday the parliamentary consultations to elect the new prime minister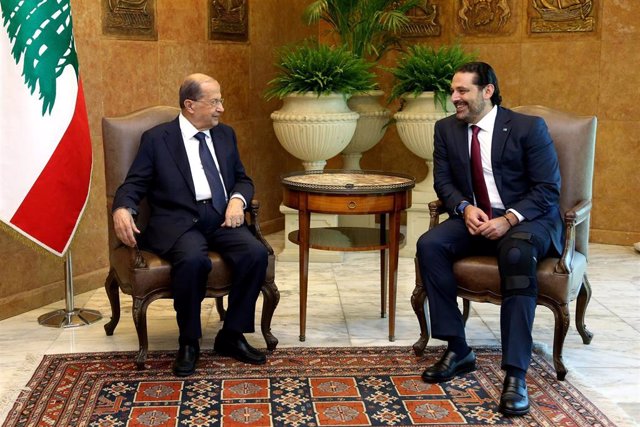 The president of Lebanon, Michel Aoun (i), and the acting prime minister of the country, Saad Hariri (d) – REUTERS / HANDOUT. – Archive
MADRID, Dec. 16 (EUROPE PRESS) –
The president of Lebanon, Michel Aoun, announced on Monday a new postponement, this time until December 19, of parliamentary consultations for the election of the country's new prime minister, plunged into a serious political and economic crisis.
The Presidency has published a brief statement in which it has indicated that the decision has been taken at the request of the acting Prime Minister, Saad Hariri, who has claimed more time to finalize the negotiations, as reported by the Lebanese state news agency, NNA .
The resignation of Hariri, presented in October, will only become effective when Aoun designates a substitute to solve the reigning paralysis in Lebanon, whose economy is going through its worst moment since the end of the civil war in 1990.
The Lebanese president called on December 9 a round of parliamentary consultations to elect the new prime minister, after verifying certain progress on an agreement for a consensus candidate, although it was postponed late until Monday.
The acting prime minister has said on several occasions that he would only agree to remain in office if a technocratic government is formed, which has found opposition from the Free Patriotic Movement (FMP) of Aoun and the Shiite militia party Hezbollah .
The FMP leader and Foreign Minister Yebran Basil said last week that he would not be part of such an Executive and stressed that, if he is to be totally technocratic, he should not be headed by Hariri. For its part, Hezbollah has opted for a "techno-political" government.
In this regard, the Hezbollah leader, Hasán Nasralá, once again proposed a "partnership" government composed of all parties, including the FMP and led by Hariri or by a person of his choice.
During the weekend there have been incidents between protesters and Lebanese security forces. On Saturday there were more than 130 injured in the protests, one of the most violent days since the beginning of the mobilizations.
On Sunday there were incidents in the immediate vicinity of the seat of Parliament, in the center of Beirut. Police have used tear gas and smoke columns could be seen from all over the city.
Thus, the headquarters of the two main Lebanese political parties in the towns of Jaribet al Yindi and Yedidat al Yuma were set on fire. In the first one, the headquarters of the Future Party of Hariri was attacked, while in Yedidat al Yuma the headquarters of the FMP have been assaulted.
The protests in Lebanon started in early October after a local currency crash for the first time in the last two decades, but discontent dragged on since July, when Parliament approved an austerity budget to address the deficit.