The president of Chile announces a law to allow the Army to take to the streets without declaring the state of emergency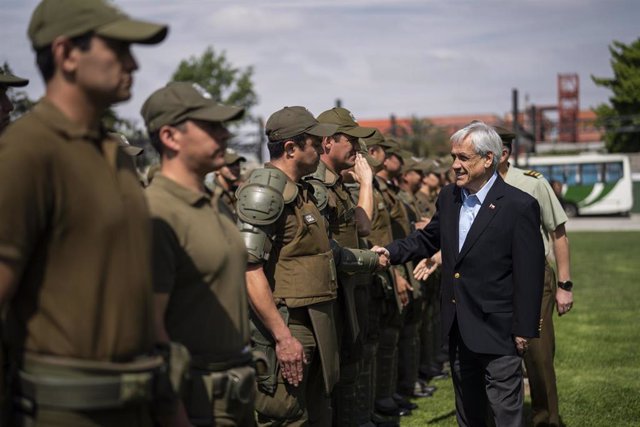 The president of Chile Sebastián Piñera with police officers – CHILE PRESIDENCY
MADRID, Nov. 24 (EUROPE PRESS) –
The president of Chile, Sebastián Piñera, announced this Sunday that he will send to Congress a bill that allows the Armed Forces to be used to protect "critical infrastructure" without the need to declare the state of exception provided for in the Constitution.
"This military collaboration will allow the liberation of a very significant number of police officers so that they can carry out their work to protect our countrymen, to protect public order, to ensure peace," Piñera argued during a visit to the NCO school. of Carabineros in Macul, according to Radio Cooperativa.
Thus, the military would protect basic services such as the electricity supply system, drinking water and police infrastructure. Piñera hopes to count on the support of the political forces.
On the other hand, the Chilean president has revealed that since this week Carabineros will receive professional advice from the police of the United Kingdom, Spain and France "to be able to enrich the strategy and the operative procedure, in order to improve the mechanisms of control of public order and give a better shelter to our countrymen. "
He has also assured that in the next 60 days it will increase by 4,354 troops – between police and Investigative Police (PDI) – thanks to the reinstatement of retired officials and the entry into service of cadets of the schools of officers and non-commissioned officers.
Piñera has also encouraged Congress to approve police modernization projects: the one that strengthens the national intelligence system, the one that creates a statute to give protection to the police, and the one that allows the pursuit of hooded men, looters and those who lift barricades. "That is fundamental as part of a great agreement for peace and against violence," he stressed.
Meanwhile, a new scandal has arisen in which police officers identified themselves in their uniforms with nicknames such as "Super Dick", "Destroyer" or "Raptor", according to photographs spread on social networks. The institution has argued that these nicknames seek to avoid new death threats.
Carabineros General Rodrigo Medina has explained that "the three were threatened and there are many more, and even I have been the victim of threats." "Therefore, the one who threatens will have to take responsibility for why he did it," he warned.
"That officer was threatened with death, his father and his family, by a middle school classmate, who is identified and denounced to the Prosecutor's Office, therefore there is a form of reaction that although it is true I do not I guarantee it, I don't share it, "he said in statements collected by Radio Cooperativa.
As for a possible internal investigation, the general has indicated that "there is no need to do research when you have clear, categorical facts about who it is." "An investigation is not pursued and that is by opinion of Comptroller," he concluded.