The polls open in Bolivia in a calm climate in the face of political uncertainty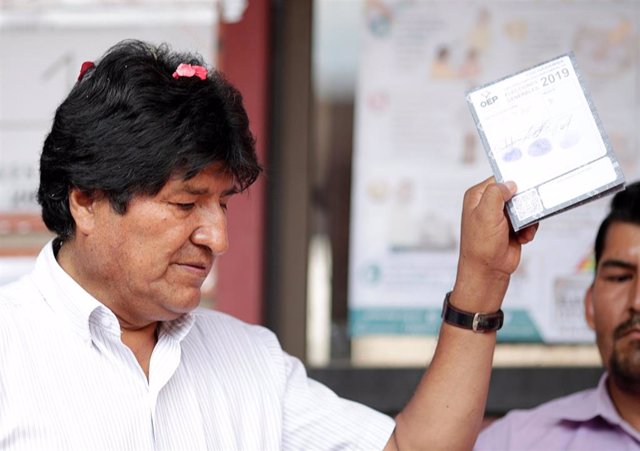 Evo Morales votes in the elections of Bolivia – REUTERS / UESLEI MARCELINO
MADRID, Oct. 20 (EUROPE PRESS) –
Bolivian polling stations have already opened their doors to hold the most uncertain elections of the last 15 years, in which the current president, Evo Morales, struggles against the wear and tear of his presidency despite the good economic results.
The president and candidate Movement To Socialism has already cast his vote in the Villa 14 de Septiembre municipality in Cochabamba (in the center of the country), where he began his stage as a trade unionist.
Finance continues to be Morales's main source of popularity, despite the recent wear and tear of his Government, after almost 14 years in power.
Bolivia has grown at that time at an average annual rate of 4.6 percent, reducing poverty, which affected 60 percent of the population at the beginning of its mandate, and now afflicts 35 percent of citizens.
In front of him, Carlos Mesa Gisbert, main opposition contender. The one who was president for two years in the early 2000s has serious possibilities, according to the polls, to take Morales for the first time to the second round of election, who has refrained from sending electoral messages after depositing his ballot.
"I am fulfilling a democratic duty, I have just paid my due and I take this opportunity to summon the Bolivian people to participate in this democratic party," he told reporters, after leaving the polling place.
"My request to the population is to participate democratically by casting their vote for the good of democracy … I would like Bolivia to be a model of participation to elect the authorities again," he said in statements collected by the Bolivarian Agency of Information.
Morales intends to await the results in the presidential residence together with Vice President Álvaro García Linera and State Ministers.
For his part, the head of the Observer Mission of the Organization of American States (OAS), Manuel Gonzales, has already informed that the elections have begun normally and without incident in the nine departments.
He also recalled that the OAS Mission displaced 92 observers in the country and three abroad to verify the normal and transparent development of the elections.
"Everything has happened normally and we hope that this will happen, but with a great citizen participation," said the former Costa Rican foreign minister.
"We have covered all aspects of Bolivian society for the purposes of our mission and the preparation of our report, the findings, suggestions and recommendations that we can make," he said.