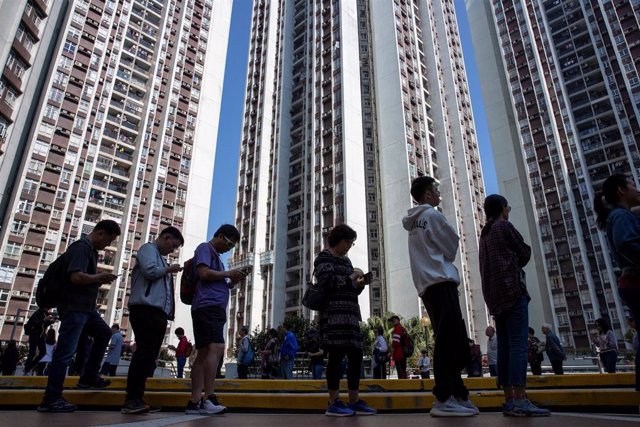 Voting in the local elections in Hong Kong – REUTERS / ATHIT PERAWONGMETHA
MADRID, Nov. 24 (EUROPE PRESS) –
Hong Kong polling stations have already closed their doors to begin counting votes in local elections, marked by an unprecedented participation of 69 percent of registered voters in what is considered a 'de facto' referendum on authorities and their relationship with the central government of Beijing after months of protests in favor of judicial independence of the territory.
Some 2.7 of the 4.1 million registered voters have deposited their ballot in these elections, which have passed without violent episodes, surpassing the 2.2 million people who deposited their ballot in the elections to the Legislative Council – the body Government principal – from 2016, according to figures collected by the 'South China Morning Post'.
The protests began in the wake of a suspended extradition of suspects law to China, in which the participants in the marches considered a violation of the judicial integrity of the territory, and that led them in March to go out for the first time to the streets, and intensify his position this summer, with a second wave of demonstrations already faced face to face with the Police.
In districts such as City One, participation has exceeded 70 percent with such massive attendance that the polling stations in the area have closed in the applause of the population.
The first reactions of the experts suggest that this high participation would benefit the pro-democratic opposition to the Hong Kong Government, which on this occasion has decided to appear as a united front against the traditional disintegration of its candidates. "Conventional wisdom dictates that pandemics tend to be the main beneficiaries of high participation," said former Minister of Transportation and Housing, Anthony Cheung Bing Leung.
"The supporters of the Chinese government will take a major setback in the results," he predicted.
Where all the experts consulted agree is on the importance of the rural suburbs, especially the areas closest to the Chinese border, unbreakable bastions of the ruling party, shaken by the impact of the riots to such an extent that it could witness a shift in power local.