The PLO accuses the US of wanting to impose the "law of the jungle" recognizing the Jewish colonies in the West Bank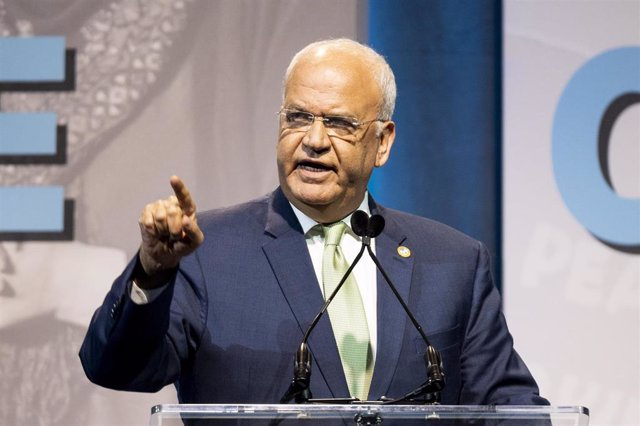 The secretary general of the Palestine Liberation Organization, Saeb Erekat – Michael Brochstein
JERUSALEM, Nov. 18 (EUROPE PRESS) –
The secretary general of the Palestine Liberation Organization (PLO), Saeb Erekat, has condemned this Monday's announcement in the United States that he believes that Jewish settlements in the West Bank are not illegal from the point of view of International Law.
"The United States does not apply this position to other regions of the world, which is a direct challenge to International Law that seeks to undermine its foundations and replace it with the law of the jungle," said Erekat, according to the Palestinian news agency Maan .
With this decision, "The United States self-eliminates itself as an international actor responsible for resolving international conflicts," Erekat has said.
The Palestinian leader has argued that "all the instruments of International Law condemn colonization, beginning with Article 49 of the Fourth Geneva Convention, which prohibits the transfer of civilian population to the occupied territory."
Erekat has also referred to the Rome Statute, constituting the International Criminal Court, which considers a war crime to colonize a territory under military occupation, or the ruling of the European Court of Justice that ratifies this position as "irrefutable".
Therefore, it has called on the international community to respond to these statements "because this behavior poses a threat to international stability." The international community must hold the United States accountable for its "flagrant and continuing violations of International Law."
Erekat has stressed that these positions generate a growing rejection throughout the world and also within the United States for those who aspire to world security, stability and peace and defend the "national rights" of the Palestinian people and the sovereignty of a State with the 1967 borders with East Jerusalem as capital.
The US Secretary of State, Mike Pompeo, has announced the historic change in Washington's criteria and stressed that "the creation of Israeli civil settlements in the West Bank is not 'per se' a violation of International Law."
The West Bank – including East Jerusalem – the Gaza Strip – from which Israel withdrew in 2005 – and the Syrian Golan Heights were militarily occupied by Israel in the 1967 war, so the construction of settlements and The colonization of these territories represents a war crime from the point of view of International Law.
Some 531,000 Jewish settlers live in the West Bank, according to 2012 data, partly in colonies considered legal by Israel and partly in settlements considered illegal even by the Israeli Government. The current figures could be higher.