The plane that transfers the 19 Spaniards of Wuhan leaves late and will arrive in Spain early in the afternoon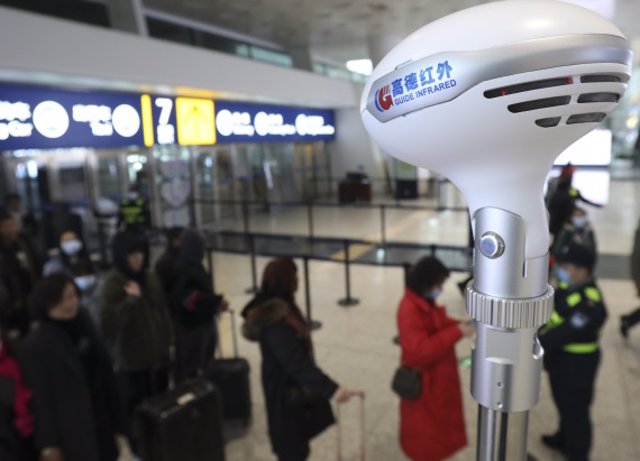 Tianhe International Airport staff in Wuhan (China) takes the temperature to passengers. – XINHUA
The plane chartered by the British Government and which transfers the group of Spaniards who were trapped in the Chinese city of Wuhan has left three hours late and with fewer passengers than initially planned, according to British television networks Sky News and BBC.
Moncloa has explained that the plane has finally taken off to the United Kingdom with 120 passengers, of which 83 are British citizens, 19 Spaniards, a Polish resident in Spain and a pregnant Chinese citizen, married to a Spanish citizen. In addition, on the flight there are two Danish marriages and a Norwegian citizen who will also arrive in Spain.
The Spanish Government has pointed out that the estimated time of arrival in London is 14:30 (Spanish time). After evacuating British citizens, the arrival of the plane in Torrejón could be early in the afternoon.
According to the British press, the forecast of the Government of London is that the plane evacuate about 150 people but there are British citizens who have not arrived in time to the airport because they do not have transportation to reach the airfield.
When the plane lands, British passengers will be transferred to the Arrowe Park hospital in Wirral, where they will remain in quarantine for two weeks. After that stopover, the plane will take off again to Spain with 27 citizens of different European nationalities on board.
The Foreign Minister of the United Kingdom, Dominic Raab, has celebrated the evacuation of citizens trapped in Wuhan. "We know how stressful the situation has been for those who were waiting to leave," he said. "We have been working against the clock to facilitate a safe exit," explained the head of British diplomacy.
According to the BBC, the departure of the evacuation flight has been delayed about three hours to allow more British and European citizens to arrive at the airport to board the plane, taking into account that public transport is suspended in Wuhan.