The parties to the conflict in Libya agree in Berlin a ceasefire and a "comprehensive plan" for resolution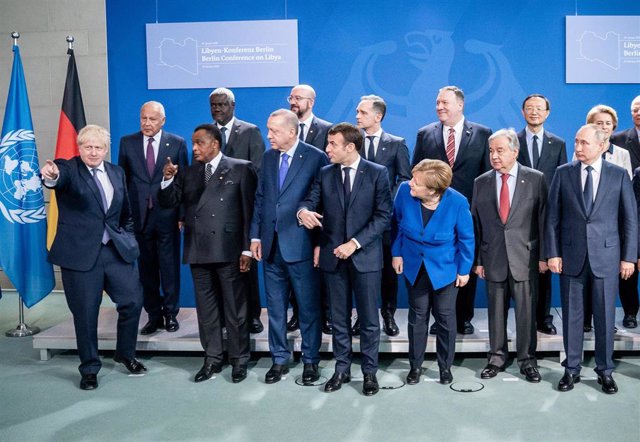 Peace conference for Libya in Berlin – Michael Kappeler / dpa
MADRID, Jan. 19 (EUROPE PRESS) –
The parties in conflict in Libya have agreed on Sunday at the Berlin peace conference a "comprehensive plan" for the solution of the dispute that includes a ceasefire and a military verification commission composed of both sides to ensure compliance.
"We have agreed that there will be a comprehensive solution plan," Merkel explained at a press conference collected by the German media. "The documents we have agreed today must be approved by the UN Security Council" and after their approval they will be part of the political process to resolve the crisis in Libya, he added.
The verification commission will consist of five representatives for each party, as explained by German Chancellor Angela Merkel at the end of the meeting. This commission will meet in the next few days in Geneva to lay the foundations for a definitive ceasefire agreement.
"The most important thing is that the Libyan representatives, in particular General (Jalifa) Haftar and (Fayez) Serraj have agreed on the next steps to be taken, proposed by the UN Secretary General and Mr. (UN special envoy for Libya , Ghassan) Salame, "he said in reference to the military commission.
Merkel has also explained that the signatory parties – a total of 16 international actors – commit themselves to meridianly apply the arms embargo. "We can say that everyone agrees to respect the arms embargo," he said.
The text also includes an agreement for the demobilization and disarmament of militias and specific sanctions in case of non-compliance with the ceasefire, since all parties agree that there is no military solution that would only increase the suffering of the population.
Merkel has thus defended a new start at the political level and boost the role of the UN mission in the country, reinforced because it assumes the premise that "there should be no more support" for the parties to the conflict.
"We have agreed on a very binding process. There are numerous checks. At the end of the process the people of Libya will finally be able to recover their rights, the right to a peaceful life," said the chancellor.
The marshal and 'lord of war' Jalifa Haftar and Fayez Serraj, prime minister of the Government of Tripoli, the only one recognized by the international community, are the main protagonists of the Berlin event.