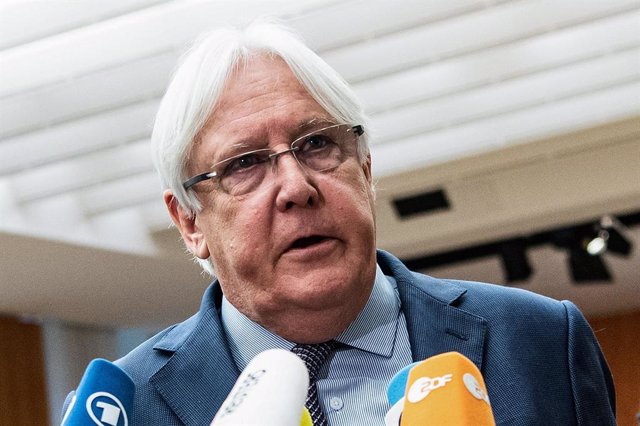 Martin Griffiths – Bernd von Jutrczenka / dpa – Archive
MADRID, Feb. 16 (EUROPE PRESS) –
The Huthi rebels and the government recognized by the international community have reached an agreement to exchange 1,400 prisoners of war after seven days of negotiations in Amman, Jordan, as reported by the office of the UN special envoy for Yemen, Martin Griffiths . This is the first official exchange of prisoners since the armed conflict began in 2015.
"After a seven-day meeting in Amman, the parties have agreed on the details to complete the first exchange of prisoners, a step towards fulfilling the commitment for the phased release of all detainees related to the conflict in Yemen contained in the Agreement on Stockholm, "explained the Griffiths office on Twitter.
The joint statement of the Griffiths office and the International Committee of the Red Cross and Red Crescent explains that the parties have agreed to "begin immediately with the exchange of lists for releases."
As for the figure,
"At a meeting recently held in Jordan, under the auspices of the UN, the exchange of prisoners was agreed, 1,400 people will be released, including Saudis and Sudanese," said Abdel Salam on his Twitter account.
The agreement was reached at the third meeting of the Supervisory Commission for the Application of the Prisoner Exchange Agreement agreed in Stockholm at the end of 2018. The meeting was attended by the two parties to the conflict and representatives of the Arab Coalition that he leads Saudi Arabia in support of the Yemeni Government.
"I urge the parties to move forward with the exchange they have agreed today with the greatest sense of urgency. The progress has been too slow on this front. The pain of thousands of people who hope to see their loved ones again must end," Griffiths said in an official statement from his office.
For Griffiths, "today the parties have shown us that even in a difficult time in Yemen, the trust they have been building can generate positive results."
The agreement also includes enabling communication channels between prisoners and their families and an upcoming meeting at the end of March to continue negotiating prisoner exchanges. They have also agreed that in a month the Subcommittee on Bodies and Human Remains will meet again under the supervision of the International Committee of the Red Cross and Red Crescent.
The conflict in Yemen, which faces the Government of Abdo Rabbu Mansur Hadi, supported by a military coalition led by Saudi Arabia, and the Huthi rebels, backed by Iran, has caused the world's greatest humanitarian crisis and left more than 100,000 dead.