The papers: 'Historic change for the monarchy'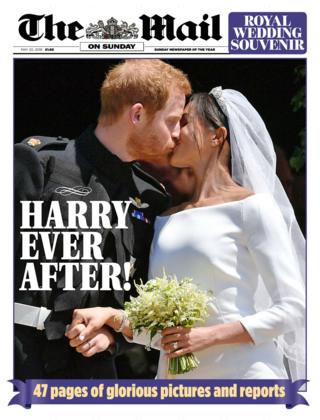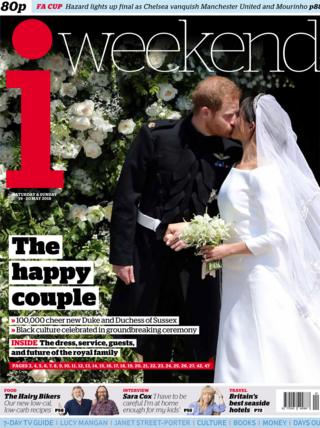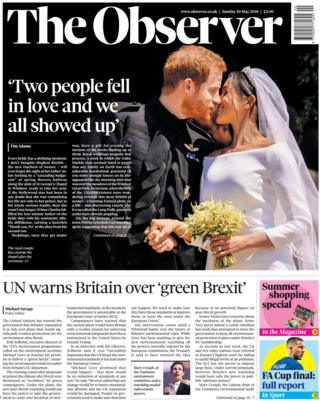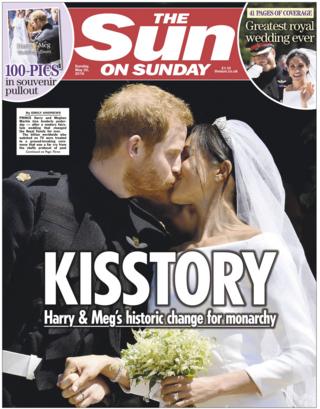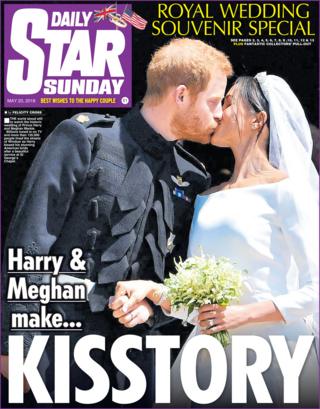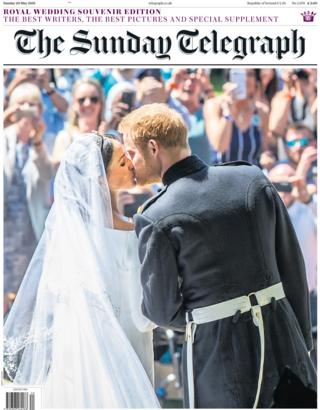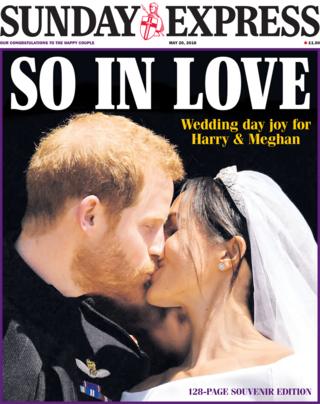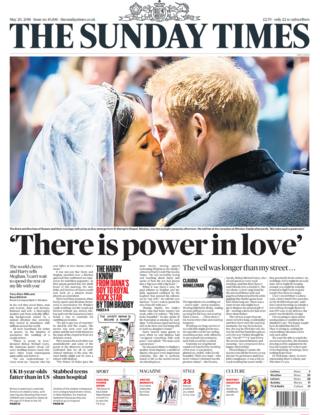 The picture that dominates the front pages is of the new Duke and Duchess of Sussex sharing a kiss as they left St George's Chapel after the royal wedding.
For the Sunday Telegraph, the picture is used on its own – with no accompanying headline or report.
But other papers take inspiration from the address by the American bishop, Michael Curry, for their headlines.
The Sunday Times uses the phrase, "There is power in love"; in the Observer, it is: "Two people fell in love and we all showed up". The Mail on Sunday has the headline: "Harry Ever After". The Sunday Express says a magical day was sealed with a loving kiss.
The Sunday Times describes the couple as a thoroughly modern pair from radically differing backgrounds united by a mutual affection that on their wedding day they shared in abundance with millions around the world.
All were transfixed, it says, for richer or poorer, by the simplest of spectacles – the wedding of a couple in love.
The Observer says that weddings, once they get under way, have the gift of erasing the stresses of the weeks leading up to them. On Saturday, they disappeared like the morning mist that was over the meadows of Windsor Great Park.
The Sunday Express agrees – everything went without a hitch, it says.
For the Sunday Mirror it was an extraordinary union that a few years ago would have seemed impossible: Harry – the Queen's grandson – was marrying a divorced, American, mixed-race actress descended from African slaves, with a celebrity profile and a strong feminist voice.
It says the Duchess will help rebuild the monarchy for a modern, multi-racial Britain.
In the words of the "i" newspaper – which publishes a special Sunday edition – two worlds collided, then embraced.
The Sun on Sunday says the wedding was a ground-breaking ceremony – a far cry from the stuffy protocol of the past.
The paper's columnist, Jane Moore, says the bride pulled off the most contemporary and delightfully multi-cultural royal wedding Britain has ever seen. There was a gospel choir, a bride's mother with a nose ring and a star-studded guest list that was far more Soho House than Buck House.
It was, the Mail says, a wedding to redefine royalty. The Sunday People says it shows the royals have embraced the 21st Century.
The wedding overshadowed the day's other big national occasion – the FA Cup Final. But the sports pages manage to weave together the two events in their headlines.
The Sun has contrasting pictures of a joyous Chelsea and a sombre Manchester United manager – with the headline, "Pride and Gloom".
For the Mirror, Chelsea's win was "Something Borrowed, Something Blue". And the People has a picture of Chelsea's manager, Antonio Conte, holding aloft the FA Cup. The headline – "To Have and To Hold".