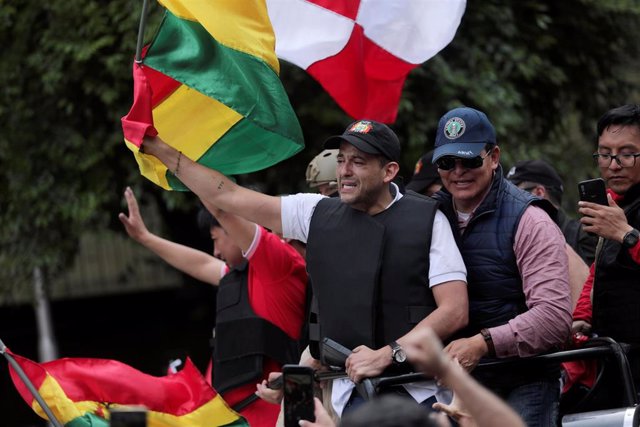 The Bolivian opponent Luis Fernando Camacho in La Paz – REUTERS / LUISA GONZALEZ
MADRID, Nov. 26 (EUROPE PRESS) –
The head of the Civic Committee of Santa Cruz, Luis Fernando Camacho, has shown himself ready on Tuesday to be the opposition candidate in the new presidential elections that Bolivia is preparing to overcome the political crisis unleashed after the elections of October 20.
The proposal has been launched by the former presidential candidate for the Civic Solidarity Unit (UCS), Vítor Hugo Cárdenas, who has urged all opponents who rivaled Evo Morales on October 20 to give up their aspirations to make way for a single candidacy .
Cárdenas has pointed out Camacho, who has emerged as an opposition figure in the context of the wave of post-election protests, and the leader of the Potosí Civic Committee, Marco Antonio Pumari, also catapulted by the current convulsions, as candidates for president and vice president, respectively .
"If the country demands the double, we will have to sit down with the sectors" opponents to make a decision and, "if it is not the best for Bolivia, then we will not do it," Camacho replied in the same press conference.
Thus, Camacho has stressed that he does not intend to "cause friction" in the opposition or "divide the vote." "We want unity and clear candidacies," he said, according to the Bolivian newspaper 'Página Siete'.
In the same line has pronounced Pumari, who has advocated "unify criteria". "If our commitment goes beyond civic value, then we will assume it with responsibility," he said.
An eventual presidential candidacy of Camacho would mean displacing former president and former vice president Carlos Mesa, who competed in the last elections and won the support of the other opposition candidates by being the second most voted, behind Morales, according to official results .
However, as the possibility of celebrating a second round between Morales and Mesa vanished and, with the self-proclamation of Jeanine Áñez as interim president, the former presidential candidate has been displaced.
"Politicians must understand that there must be renewal at all levels of our country," said the civic leader of Potosí.
Morales resigned on November 10 after the audit commissioned by the Organization of American States confirmed "irregularities" in the electoral process. After a month of protests that have left more than 30 dead, supporters and detractors of the indigenous leader agreed in Congress to pass a law that establishes the 'road map' for the holding of new elections.
The law expressly vetoes the candidacies of Morales and his vice president, Álvaro García Linera, both exiled in Mexico. The former Bolivian president has said in numerous interviews that he is willing not to participate in the upcoming elections for the "pacification" of the country.