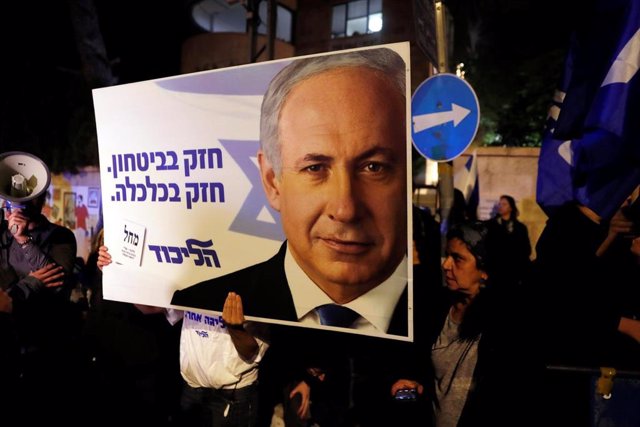 Demonstration of support for Benjamin Netanyahu – REUTERS / RONEN ZVULUN
MADRID, Nov. 22 (EUROPE PRESS) –
The Israeli opposition party Blue and White, led by Benny Gantz, has urged the Prime Minister, Benjamin Netanyahu, to resign the ministerial positions he has held in recent years after confirmation of his complaint for alleged corruption offenses.
A head of government is not required by law to resign if there is a firm conviction of the highest judicial instance, but for ministers the regulations are stricter. For this reason, Azul y Blanco wants Netanyahu to leave his posts in the ministries of Health, Diaspora Affairs, Agriculture and Labor and Social Services.
"According to the jurisprudence of the Supreme Court, a minister who has been charged cannot continue in office," has alleged opposition training in letters sent to Netanyahu and Israel's attorney general, Avichai Mandelblit, who formalized the charges on Thursday for bribes, fraud and abuse of trust, according to the newspaper 'The Jerusalem Post'.
The prime minister, who has described the accusations as an "attempted coup", has received support from center-right leaders, especially his political partners. Foreign Minister Israel Katz has appealed to the "presumption of innocence" and said that Netanyahu is "a patriot who has sacrificed and acted all his life for the sake of the security of the State of Israel and the strengthening of his position in the world".
For now, Netanyahu has not shown signs of departing from power, with the country at the gates of a third parliamentary election. The deputies have three weeks to find a candidate for prime minister that arouses a majority support in the Knesset after the failures of the attempts of both Netanyahu and Gantz to form a government.